SPiiPlus ADK Suite v2.50 Release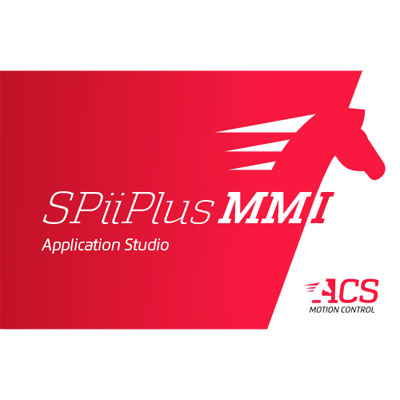 , available for download.
SPiiPlus ADK v2.50 features an updated MMI Application Studio with enhanced diagnostics capabilities, new ACSPL+ functions & variables, updated ACSPL+ commands & functions, and support of new products.
SPiiPlus ADK v2.50 includes the ACS Knowledge Center within the SPiiPlusMMI Application Studio and as a standalone application available as a separate download.
A CD with the SPiiPlus ADK Suite is not provided with ACS controller hardware.
New Products Supported
LCM: An EtherCAT slave module that provides all ACS controllers and control modules the ability to control a laser source directly and to synchronize its activation and pulsing to motion.
MP4U: An eight-axis EtherCAT® drive module
SPiiPlus ADK New Capabilities and Features
JIT Buffer Execution

Provides the ability to start executing the buffer immediately after the loading process of the file is completed.
Useful for G-Code programs.

Dynamic Buffer

Similar to JIT buffer, commands can be sent only from the host application.

Blended Segmented Motion

Processing a complex multi-axis trajectory and smoothing corners between segments without look-ahead capabilities.

Bitwise Mapping of EtherCAT variables

Enables ACSPL+ functions to support mapping of a single bit or multiple bits types.

Enhanced EtherCAT and Network errors notification

ECALLERR - a new ACSPL+ variable for error codes, based on AL Status Codes.
New motor error codes for SYNC loss and GPRT overflow for ACSPL+ safety variable MERR.

GSP G&M Code Extension

Blended segmented motion - a sequence of linear and arc segments.
Feed hold and return - enables saving the currently executed motion as well as all motions in the motion queue (if they exist), suspend them, and then restore them later. After the hold command is executed, no motion commands exist in the motion queue.
Parts rotation - the ability to create a shape, described by a sequence of segments, in a 2D plane.
The ability to reference to a WCS as a fixed point in space in GETSETMODAL.
Updated indices for GGETMODAL and GSETMODAL for new features.

Faults simulation

The ability to simulate all faults both in the simulator and on a real controller.

SPiiPlus MMI Application Studio

Adjuster Wizard - the adjustment process for stepper motors is simplified.
Scope - Y-axis units can be displayed and two zoom features are added.
SPiiPlus C Library
Extended segmented motion is updated.
Blended segmented motion is added.
New motion flags are created.
Documentation
New Documents
SPiiPlus ADK Suite v2.50 Release Notes
Product Guide: MP4U Installation Guide
Product Guide: LCM Laser Control Module Installation and Operation Guide
Application Note: Laser Control with the LCM
Updated Documents
ACSPL+ Programmer's Guide
GSP_G&M Codes Extension to ACSPL+ Reference Guide
SPiiPlus C Library Programmer Guide
SPiiPlus COM Library Programmer Guide
SPiiPlus Command & Variable Reference Guide
SPiiPlus MMI Application Studio User Guide
SPiiPlus .NET Programmers Guide
SPiiPlusSC Installation
The SPiiPlusSC Soft Controller Installation software V2.50 is now available on a USB flash disk, as an optional accessory.
PN: SPiiPlusSC-FW-USB

Updated Documents
SPiiPlusSC User Guide
SPiiPlusSC Setup for WinXP
SPiiPlusSC Setup for Windows 7-8-10
SPiiPlusSC Silent Installation Guide
SPiiPlusSC Troubleshooting Guide