Speedeburr Axially-Compliant Deburring Tools Manufactured in USA
Apex, North Carolina: ATI Industrial Automation, a world-leading engineering-based developer of robotic peripheral equipment, recently completed the purchase of the Speedeburr product line from the Norwegian-based Speedeburr AS. The Speedeburr line has been available through ATI since 1998, sold as Axially-Compliant (AC) Deburring Tools. Keith Morris, ATI President, explains, "Now that the purchase is complete, all manufacturing and support of the Speedeburr product line will take place at our corporate and manufacturing headquarters in Apex, N.C."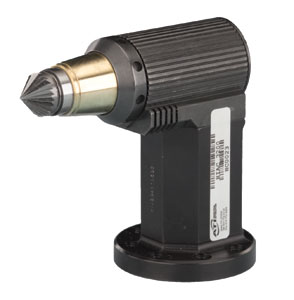 Patented Speedeburr deburring tools are robust, high-speed, lightweight air tools designed with a floating rotary cutting burr for edge-deburring and chamfering of aluminum, plastic, steel, etc., with a robot or CNC machine. While spinning at high speeds, a rotary cutting burr or file (tungsten carbide-, PCD- or CBN-coated cutting burr) rides on a cushion of air that provides compliance while maintaining a constant contact force. The rotary burr has a 45 degree cutting angle to achieve both lateral and axial compliance. Chattering (a common problem with robotic deburring) is prevented with this patented force control system that implements a very high stiffness in the path direction and a low stiffness in the contact force direction. Due to the extremely low inertia of the cutting burr, Speedeburr deburring tools can quickly deburr parts, greatly reducing cycle time.
ATI also offers a series of Radially-Compliant Deburring Tools (Flexdeburr) that are robust, high-speed and lightweight air-turbine-driven deburring units for deburring aluminum, plastic, steel, etc. with a robot or CNC machine and Axially-Compliant Finishing Tools (VersaFinish) that are robust, low-speed, high-torque air tools with an axially-floating spindle, suitable for a multitude of robotic and non-robotic material finishing operations on aluminum, plastic, steel and more.
Morris continues, "Our mission is to provide customers with high-quality robotic peripheral devices, tooling and sensors that enhance their profitability by increasing the effectiveness, flexibility and safety of automation applications. We are constantly adding new products and expanding current product lines to meet every customer need."
For more information about the purchase of Speedeburr product line and ATI products, contact Charles Haines, Marketing Manager, ATI Industrial Automation, 1031 Goodworth Drive, Apex, NC 27539, phone 919-772-0115, fax 919-772-8259.

Editorial Contact:
Tom Balmer
NAECO, Inc.
PO Box 726
Absecon, NJ 08201
Phone/Fax: 609-266-2009