SmartReflect™ Light Barrier
Photoelectric Sensor Requires No Separate Reflector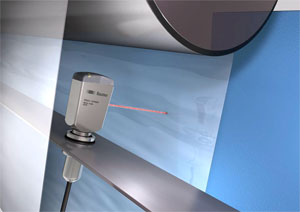 Baumer has introduced a new highly sensitive version of its SmartReflect™ Light Barrier, the first photoelectric light barrier to operate without a separate reflector or receiver. Because the high sensitivity SmartReflect™ picks up the tiniest changes in light intensity, it can detect highly transparent targets including foils, bowls and bottles.
Available with IP69K-rated or standard plastic housings, SmartReflect™ light barriers create a closed light beam between the sensor and any background, and reliably detect target objects regardless of color, shape, transparency or surface texture. The high sensitivity sensor is available in hygienic and wash-down designs.
SmartReflect™ technology is ideal for automated food and beverage processing, packaging/materials handling, or print and graphics sensing applications. In the food industry, the SmartReflect identifies the correct positioning of the items to be packaged. The sensor is ideal when installation of a separate reflector/receiver is challenging due to hygienic requirements or insufficient installation space.
These light barriers are easy to install and adjust, insensitive to dirt or wash-down, and very low-maintenance. By substituting any machine part in the processing environment as a receiver, the SmartReflect™ eliminates costs associated with reflector installation, cleaning, adjustment and replacement.
Baumer offers three SmartReflect™ sensor designs: IP69K-rated hygienic or wash-down models featuring ProTect+ impermeability; standard-sized 14.8 x 31 x 43 sensors with plastic housings, and a miniature sensor housing that measures just 8 x 16.2 x 10.8 mm.
The Baumer Group is a leading international manufacturer of sensors and system solutions for factory and process automation. In 2011, the innovative family-owned company employed about 2,500 people worldwide in 36 locations and 18 countries. The long lasting success is built on high customer focus as well as the innovative and diversified product range of the product segments Sensor Solutions, Motion Control, Vision Technologies, Process Instrumentation, and Gluing Systems.