SMARTEK Vision Brings the Latest CMOS Sensors to GigE and USB3 Vision with New "twentynine" Camera Line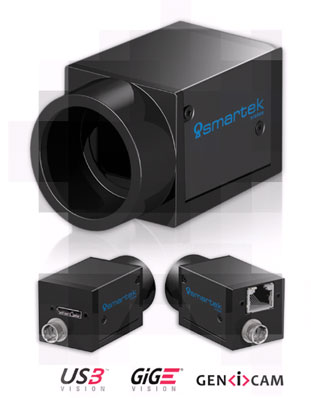 Munich: Already introduced as one highlight of The Vision Show Boston, SMARTEK Vision officially introduce their new CMOS camera family "twentynine" for machine vision applications. Available from imaging distributor FRAMOS, the camera line fits GigE Vision and USB3 Vision with a new high-speed sensor front-end into a miniature housing, featuring standardized connectivity, enhanced processing capabilities and a flexible customization concept.
Optimized for the latest CMOS image sensors, the SMARTEK Vision "twentynine" camera family comes with the needed capability to drive all the latest SONY Pregius and ON Semiconductor Python image sensors with up to 18 megapixels resolution to maximize both camera interface options. With pixel sizes from 5.86 µm and 3.45 µm down to 1.25 µm, sensor formats from 1/2.8" to 1/3", as well as high frame rates, there is the right camera-sensor combination for nearly every industry need.
The concept of seamless integration is able to connect with C-Mount, Power-over-Ethernet (PoE) and general-purpose IOs (GPIO) via a 6-pin Hirose connector, providing synchronization inputs and outputs, as well as several camera mounting screw ports.
André Brela, Product Manager SMARTEK at FRAMOS, explains: 'The brand-new "twentynine" camera line with a 29x29 mm form factor fulfils the established standard for industrial compact cameras. Featuring cutting-edge CMOS sensors from global shutter to backside illumination, increased processing capabilities and now also USB3 Vision, it is a big step for our camera line-up, and especially our technology platform. This means not only for system integrators the latest technologies in a highly integrated design: with the existing platform, we are continuously able to offer quick and cost-effective customer-specific solutions, covering more than board-level cameras and on-board processing. This way we can provide the latest technology in a product exactly fitting our customer's needs, not bound to the needs of a standard camera from the supermarket.'
For customers requesting individual features, the SMARTEK "twentynine" camera line provides doubled FPGA capabilities that allow application-specific implementations and an enhanced feature set with auto-exposure, multiple areas of interest, gamma, LUT and chunk data control. In case the application has special demands in sensor functionality, feature set and mechanical dimensions, the SMARTEK Vision "twentynine" series is able to be adapted to almost every requirement quickly and efficiently.
With a deep knowledge from sensor to system, the FRAMOS industry and product experts provide additional services like development support, engineering and logistics to support customers in using the new camera series for their applications and projects.