Smart Vision Lights Partners with Gardasoft to Provide Triniti-Enabled LED Lighting Worldwide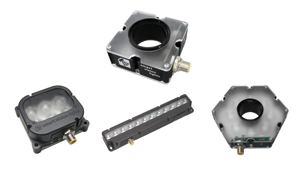 Smart Vision Lights — a leading designer and manufacturer of high-brightness LED lights for industrial applications, including machine vision — is pleased to announced its partnership with Gardasoft Vision of Cambridge, United Kingdom, to provide LED lighting solutions enabled with Gardasoft's system-enabling Triniti technology worldwide. Triniti technology provides expert control, operational intelligence, and full integration of machine vision lighting within a plug-and-play environment.
With Triniti technology, machine vision systems with LED lighting are now much easier to create, configure, and commission while simultaneously increasing functionality. Smart Vision Lights will be offering Triniti-enabled LED lights that will integrate seamlessly into machine vision networks and connect directly to the Triniti controller. With Triniti technology built into Smart Vision Lights' products, users will benefit from having expert control techniques for their lighting systems readily available with an ease of use typically associated with plug-and-play products.
Initial Smart Vision Lights products utilizing the Triniti technology include the GRD-S75 Brick Spot Light, the GRD-L300 Linear Light, the GRD-R80 Ring Light, and the GRD-R130 Ring Light. Smart Vision Lights' Triniti-enabled products will be featured on its booth 1G54 at the VISION 2014 show November 4- 6 in Stuttgart, Germany, where Gardasoft also will be exhibiting.
For more information on the Triniti-enabled products or other industrial and machine vision LED light products from Smart Vision Lights, visit SmartVisionLights.com.
About Smart Vision Lights
Smart Vision Lights (Muskegon, Mich.) is a leading designer and manufacturer of high-brightness LED lights for industrial applications, including machine vision. Smart Vision Lights products come with universal internal current-control drivers, offering constant or strobed operation, reduced wiring requirements, and easy installation. Smart Vision Lights products also are the safest on the market thanks to the company's in-house IEC 62741 light-testing laboratory, guaranteeing conformity and compliance for your lighting systems, regardless of where they are installed around the globe. Learn more at SmartVisionLights.com or by calling (231) 722-1199 in the U.S.
About Gardasoft
Gardasoft are a world leader in the design and manufacture of LED illumination and LED control solutions for Machine Vision and Intelligent Traffic applications – with Headquarters in Cambridge, UK and US offices in Weare, New Hampshire. Their RT and PP Series LED Pulse Controllers lead the field in LED Lighting Control; the VLX Line Lights are the highest intensity LED illuminators for Linescan imaging, and the VTR Series LED Strobes are the innovative solution for the ANPR / LPR Traffic sector. Learn more at Gardasoft.com.