Smart Vision Lights Introduces LXE300 Linear Light Series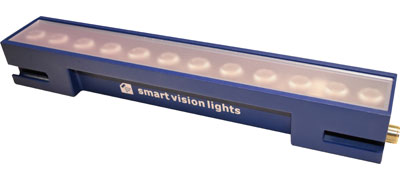 MUSKEGON, Mich. — Smart Vision Lights, a leading designer and manufacturer of high-brightness LED lights for industrial applications, introduces its most advanced and brightest linear light yet, the LXE300.
The LXE300 series — which delivers up to 100,0000 lux, making it our brightest linear LED light — features a metal housing and includes Smart Vision Lights' most advanced built-in Multi-Drive™ driver, allowing the light to operate continuously or in OverDrive™ strobe mode. The Multi-Drive also protects the LEDs from premature degradation and failure caused by excessive heat by regulating the current delivered to the LEDs and by limiting their duty cycle.
Other advanced features include the ability to connect up to six lights directly (end to end with no spacing between the lights) to create uniform-output, long linear lights for a fraction of the cost of a monolithic light. Users can also daisy-chain up to six LXE300 lights using a locking jumper cable to support different multi-light configurations.
The industry-standard 5-pin M12 connector makes for simple wiring, since external wiring to a driver is unnecessary, and the 1–10 V DC analog control line gives the user total control over intensity when running the light in continuous operation. The LXE300 also offers over-current protection, as well as PNP and NPN strobe input. The light is recommended for bright field, dark field, and direct lighting applications.
About Smart Vision Lights
Smart Vision Lights (Muskegon, Mich.) is a leading designer and manufacturer of high-brightness LED lights for industrial applications, including machine vision. Smart Vision Lights products come with universal internal current-control drivers, offering constant or strobed operation, reduced wiring requirements, and easy installation. Smart Vision Lights products also are the safest on the market thanks to the company's in-house IEC 62741 light-testing laboratory, guaranteeing conformity and compliance for your lighting systems, regardless of where they are installed around the globe.