Smart Vision Lights Introduces LLM LED Light Manager Targeting Photometric 3D, Multispectral, and Other Multi-Light Machine Vision Systems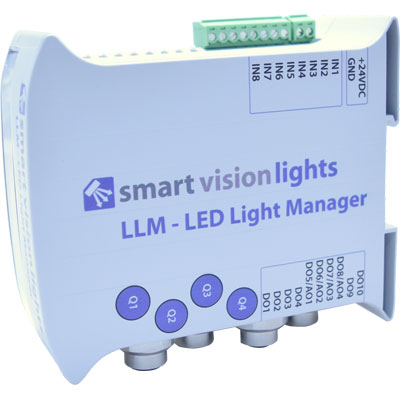 Muskegon, Mich., — To address the lighting control needs of multi-light machine vision solutions, including photometric 3D and multispectral systems, Smart Vision Lights is pleased to announce its programmable LED Light Manager (LLM) and associated light kits.
The LLM can drive up to four separate lights of virtually any type or up to four individual quadrants or channels within an integrated photometric or multispectral ring light solution. Each program can contain up to four sequences with up to four lights set to continuous on, off, any intensity level in between, and even OverDriveTM strobe mode.
To program the four quadrants of a single LED illumination system such as a ring light or four separate LED light sources, simply connect the LLM to a computer via Ethernet cable and use the browser-based interface to program the light through a series of drop-down menus. The intuitive user interface makes it possible for technicians of any level to set image sequences and program intensities for each light.
The LLM system and light kit bundles initially will target 3D photometric stereo and 2D multi-light applications. By capturing successive images of a stationary object as it is illuminated by a sequence of lights, photometric image processing software can determine the 3D surface orientation of every pixel across the object's surface. The same technique can generate 2D images of multiple regions of interest using separate lights and/or cameras.
LLM is also appropriate for multispectral imaging solutions where the LED wavelengths — and not broad-spectrum white lights with optical filters in front of the sensor — are the spectral band selection mechanisms. Using the color of illuminating light as the spectral band selection mechanism can greatly reduce the cost of multispectral imaging solutions, while increasing budgets for imaging applications.
To simplify the design of photometric 3D systems, SVL has created a number of LLM Photometric Light Kits that include lights with our universal internal drivers, oblique-angle brackets for directing light, and the requisite cables. By offering both NPN and PNP inputs, most of today's smart cameras can directly drive the lights at 2 A in continuous mode or 10 A in OverDriveTM mode. Technicians can add a second power supply to increase channel output beyond 2 A.
Based around an ATmega32U4 microprocessor from Atmel, the LLM features an onboard Ethernet controller, four output channels to drive the LEDs, and two additional outputs that can be used, for example, to trigger a camera or external controller.
About Smart Vision Lights
Smart Vision Lights (Muskegon, Mich.) is a leading designer and manufacturer of high-brightness LED lights for industrial applications, including machine vision. Smart Vision Lights products come with universal internal current-control drivers, offering constant or strobed operation, reduced wiring requirements, and easy installation. Smart Vision Lights products are also the safest on the market thanks to the company's in-house IEC 62741 light-testing laboratory, guaranteeing conformity and compliance for your lighting systems, regardless of where they are installed around the globe. Learn more at SmartVisionLights.com or by calling (231) 722-1199 in the U.S.