Smart Vision Lights Honored as One of the 2014 'Michigan 50 Companies to Watch'
v>Muskegon, Michigan— Smart Vision Lights has been recognized as one of the 2014 "Michigan 50 Companies to Watch," an awards program presented by Michigan Celebrates Small Business. Smart Vision Lights will be honored at an awards ceremony during the 10th annual Michigan Celebrates Small Business event on May 6, 2014, in East Lansing, Michigan.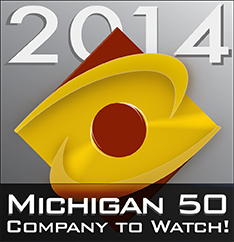 Smart Vision Lights is a leading designer and manufacturer of high-brightness LED lights for industrial applications, including machine vision. The company's products come with universal, internal current-control drivers, offering constant or strobed operation, reduced wiring requirements, and easy installation. Smart Vision Lights also are the safest on the market thanks to its in-house IEC 62741 light-testing laboratory, guaranteeing conformity and compliance for your lighting systems regardless of where they are installed around the globe.
"We are very pleased to be honored with this award and recognition. Our staff is dedicated to continuously improving our products and processes so that our customers and partners can remain successful and we can contribute to our state's continued economic growth," said David Spaulding, president of Smart Vision Lights. "We will accomplish this by putting our customers' needs ahead of our own and continuously improving our products, overall customer service, processes, and improving every detail of our business."
Companies making it to the "Michigan 50 Companies to Watch" list are a remarkable group of second-stage companies. Defined as having 6 to 99 full-time-equivalent employees and generating $750,000 to $50 million in annual revenue or working capital from investors or grants, these companies form the backbone of Michigan's economy. Representing all regions of the state and a diverse range of industries, companies like Smart Vision Lights are known for their exceptional entrepreneurial leadership, creation of innovation or use of innovation in creative ways, and their sustainable competitive advantage.
Winners were selected by Michigan-based judges from the banking, economic development, entrepreneurship development, and venture capital communities.