Smart Inspect
rong>the new vision sensor with EyeVision Software

With the new vision sensor Smart Inspect, EVT offers the user new machine vision possibilities for a wide range of industrial applications. In the housing, which measures only 140 x 70 x 35 mm, contains not only an intelligent camera and a high-output, high-power LED illumination, but also the evaluation software. As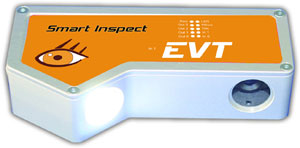 already known from the EyeSpector smart camera series, the integrated EyeVision image processing software is programmed quite easily with the drag-and-drop function of the graphical user interface. Therefore inspection programs can be created fast and even without programming skills.

Due to the illumination, which is positioned at an angle, allows that even difficult surfaces can be examined reliably. As all smart cameras by EVT, the Smart Inspect executes all image processing routines without an external PC and even outperforms conventional vision sensors. Hence, the vision system enables automation applications where conventional, PC-based image processing systems are too expensive or too complex to implement.

Additionally, the sensor has available 32 MB Flash and 128 MB DDRAM for program and data storage. With a 700 MHz processor with a computing power of 5,600 MIPS, the high-performance sensor is extremely fast.

The sensor is equipped with an Ethernet interface, which enables live video output on a PC and optionally with an RS232 interface. The images are recorded by means of a global shutter CMOS sensor whose performance equals that of a CCD sensor, providing clear, high-resolution pictures even in extremely fast applications.