Small, Versatile and Extremely Fast GP4 Robot Expands Capability of GP-series Line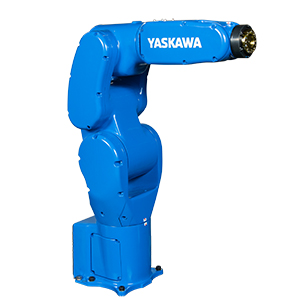 Dayton, OH – Extremely fast for maximum throughput, the highly precise GP4 robot is equipped with a 4 kg payload for high-volume small component processing. Axis speeds up to 1,000 degrees/s and incredibly fast acceleration/deceleration control for all robot positions optimize overall productivity. This model provides extremely agile operations for a wide range of applications including assembly, handling, machine tending and packaging.
Highly flexible, the GP4 offers a wide work area for its size, making it a viable six-axis alternative to SCARA-style robots typically used in the electronics, confectionery and small parcel sortation industries. The GP4 features a 1,008 mm vertical reach, 550 mm horizontal reach and ±0.01 mm repeatability. A high wrist allowable moment enables accurate and repeatable handling.
A compact footprint and slim body design allow for minimum installation space and minimize interference with peripheral devices. This enables the GP4 to be placed in close proximity to workpieces and other robots to create flexible, high-density layouts.
An IP67 rating and easy-to-clean surface facilitate use in sanitary or harsh environments, and an anti-corrosive paint option is available for further chemical resistance.
Installation is quick and efficient. A single cable is all that is needed to connect the manipulator to the controller, resulting in easy setup and reduced expenses for maintenance and spare parts inventory. An optional location (bottom) for the manipular cable connection reduces interference with walls.
The smallest robot in the GP-series product line, the GP4 is compatible with the YRC1000 controller or the ultra-compact, yet powerful YRC1000micro controller, and utilizes a lightweight standard teach pendant with intuitive programming.
About Yaskawa Motoman
Founded in 1989, the Motoman Robotics Division of Yaskawa America, Inc. is a leading robotics company in the Americas. With over 450,000 Motoman® robots installed globally, Yaskawa provides automation products and solutions for virtually every industry and robotic application; including arc welding, assembly, coating, dispensing, material handling, material cutting, material removal, packaging, palletizing and spot welding. For more information please visit our website at www.motoman.com or call 937.847.6200.