Slotless Zero Cogging Motor Kits from AppliMotion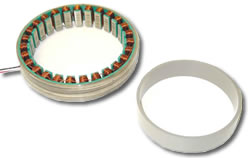 Applimotion's UTS Series Slotless Direct Drive Frameless Motors are permanent magnet 3phase ring type, low profile, direct drive motors with large through hole available in 29-240mm diameters.
For the ultimate in smooth operation when scanning or positioning, the UTS Series Slotless motors offer zero cogging and sinusoidal torque angle curves. Considered one of the best motor constructions for many years, Applimotion has leveraged already proven motor technology as the basis for this new family of direct drive motors. Once you have taken advantage of a slotless direct drive motor you won't go back to traditional motors. Features include:
Wide Range of Diameters - from 29 mm to 240 mm.
Medium motor constant – Low phase resistance and inductance for the motor size optimizes operation with low voltage power supplies and provides the high output with minimum voltage drop.
Optional Windings – Select your voltage, speed and current, Applimotion will create a special winding to optimize torque or efficiency.
Sinusoidal Torque Curves – motor designs for optimum performance with sinusoidal current control. Less than 1% higher harmonic content for minimum torque ripple on sinusoidal drives.
Zero Cogging Torque – provides ultra-smooth consistent motion.
Optional Back Iron Rings - A standard set of iron rings are offered for each motor.
Optional Hall Device Feedback – internally mounted PCA doesn't add to motor height offered on some motors, others require externally mounted hall device board.
Company Contact
Warren Osak
Tel: 877-737-8698