SlimLine™ Roll-Up Safety Barrier Door Protects Employees from Hazards!
MILWAUKEE, WI -- Frommelt Safety Products announces the introduction of the SlimLine™ Roll-Up Safety Barrier Door. Our new SlimLine door is designed to protect employees from entry into hazardous areas while machines are operating, protection against flying debris, and weld flash. The SlimLine operates at higher speeds of 40" and 55" per second open/close. Applications include robotic work cells, palletizing, AGV entry, and general machine guarding safety.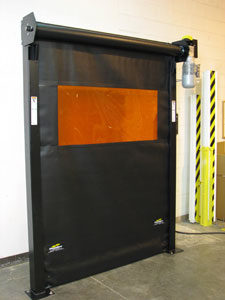 The SlimLine is designed with integral side frame guide support, soft bottom edge curtain design, and gravity down motion. Patented safety interlocks are designed to provide safety in open and close positions. Three-piece construction allows for quick and easy installation. The SlimLine is currently installed in applications for millions of cycles.
Frommelt Safety Products is a recognized leader in industrial safety and machine guarding products, with a commitment to excellence in the key areas of technological innovation. For more information on our SlimLine Door and other Machine Guarding Products, call Frommelt Safety Products at 800-553-5560 or visit our website at www.frommeltsafety.com.
Contact:
Gerry Timms, Product Manager
Frommelt Safety Products
Phone: 414-362-6379
Fax: 414-355-9248