SITON® range: The non marking, high temperature resistant suction pads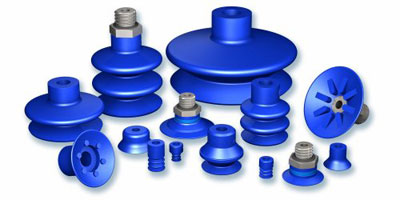 It's been 15 years COVAL has developed the material SITON® . In addition to its non marking capacity, the new range of suction pads in SITON® offer excellent resistance to abrasion.
As most of the COVAL product, the SITON is a material resulting from a clients' request. The cosmetic industry need's non-marking suction pads along with a capacity to resist high temperatures.
Once the product is developed and tested, it was not by surprise that COVAL observed in addition to SITON's high temperature resistance, it offered a high resistance to abrasion.
This rare combination of properties is highly demanded in the cosmetic industry to handle the fragile products such as lipsticks where marking is strictly avoided. For plastics, the heat resistance of SITON® allows for efficient handling of hot products from the moulds without any deterioration or leaving any marks.
In addition, the SITON® offers superior strength compared to conventional materials, which increases the lifespan of suction cups, thus reducing the frequency of purchase and machine downtime.
Additionally, COVAL extends the range of SITON cups to the large sizes and shapes. From now onwards, 80% of standard suction pads are available in SITON material allowing for utilization in majority of industrial applications.
The applications
Cosmetics: Handling of fragile products such as lipsticks.
Plastics: Handling of products still hot while taken out from molds.
SITON®, which makes the difference
Non-marking: clear mix and absence of silicon
Good mechanical performance to high temperature, up to 160°C.
Very good resistance to abrasion
About COVAL
Established in the south of France, COVAL SAS designs, produces and markets high-performance vacuum components and systems throughout the entire world for industrial applications in all lines of business.
COVAL is an ISO 9001 V2015 certified company that innovates on a global scale in the area of vacuum handling using optimized components with integrated, intelligent and reliable features. Its solutions can be adapted to any industrial context and their primary goal is to improve productivity with safety in mind.
COVAL's clients are present in all major industrial fields in which vacuum handling is critical for efficiency and productivity. These fields include packaging, automotive, plastic processing, aeronautics, and palletizing.
COVAL markets its products and services throughout Europe as well as in North and South America through its subsidiaries and its network of authorized distributors.