Simotion Scout v4.2 Improves Usability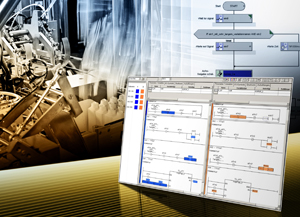 The motion control business of Siemens Industry, Inc. announced today, that Simotion Scout, the engineering system used for configuring Simotion motion controllers, has been updated with a wide range of usability improvements. As more and more demands are put on modern production machines, this system enables all of the application functions and tasks to be implemented within one uniform user interface.

Simotion is the scalable motion control system that quickly and easily handles increasing machine demands by enabling central machine functions to be implemented with just one controller.

It is available in three variants: drive-based, PC-based and controller-based.

Simotion Scout facilitates the configuration, programming, testing and commissioning of applications. With its graphical-based programming, Scout further facilitates system configuration for new users. Users of Scout 4.2 will also benefit from new features such as automatic drive integration and detailed comparisons for graphics-based programming languages.

The most significant innovation of Scout 4.2 is its simplified interface to the Siemens Sinamics drive system. This feature provides users with an automated means of integrating drives and components into the Simotion system. Using the new symbolic assignment of technology objects (TOs) and I/Os to drive objects, users no longer manually configure communication with message frames and addresses because Simotion Scout now automates this task. Object-to-object assignment takes place via a new inter-connection screen. In this screen, all compatible partners are listed hierarchically and the symbolic connection of the components to be inter-connected takes place by simple selection.

Siemens Industry
Siemens Industry, Inc. is the U.S. affiliate of Siemens' global Industry Sector business—the world's leading supplier of production, transportation and building technology solutions. The company's integrated hardware and software technologies enable comprehensive industry-specific solutions for industrial and infrastructure providers to increase their productivity, sustainability and profitability. The Industry Sector includes six divisions: Building Technologies, Industry Automation, Industry Solutions, Mobility, Drive Technologies and Osram Sylvania. With nearly 204,000 Siemens Industry Sector employees worldwide, the Industry Sector posted a worldwide profit of $4.7 billion on revenues of $47.3 billion in fiscal 2010.

Drive Technologies
A division of Siemens Industry, Inc., the Drive Technologies Division is the world's leading supplier of electrical and mechanical products, applications and solutions that cover the entire drive train. Drive Technologies is the global leader in energy-efficient motors and drives, as well as products and services for production machinery and machine tools. Technologies include standard products, industry-specific control and drive solutions, as well as mechatronics support and online services for web-based fault management and preventive maintenance. Drive Technologies provides its customers with energy-efficiency, productivity and reliability in industries as diverse as clean and renewable energy, transportation, oil and gas, utilities, metals and mining, machinery manufacturing and machine tools. With nearly 36,000 employees worldwide, the Drive Technologies Division posted worldwide revenues of $9.5 billion in fiscal year 2010.