Siemens Upgrades West Chicago Plant to Produce Photovoltaic Solar Inverters
Multi-Million Dollar Investment to Support U.S. Growth of Clean Energy Initiatives
ATLANTA -- Siemens Industry, Inc. is celebrating the production of its SINVERT solar inverters at its recently-updated manufacturing plant located in West Chicago, Ill. The company invested approximately $10 million upgrading two buildings at the location, one of which will support the growing demand for solar power in the United States.
Siemens is currently producing SINVERT PVS inverters in West Chicago to support a 20MW solar project in the Southwest United States. This multi-million dollar contract was secured in early 2011, with commissioning of the inverters slated for October of this year.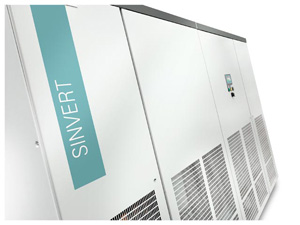 "This is a proud day for Siemens as our West Chicago operations will continue to position the company as a leader within the solar industry, and further support the demand for new, clean sources of energy in the U.S.," says Raj Batra, president, Industry Automation division, Siemens Industry, Inc. "The production of our solar inverters is helping to transform the American manufacturing landscape from one of blue-collar to 'green-collar' jobs."
Siemens West Chicago manufacturing facilities, comprising 200,000 square-feet in two buildings, employs 350 people. In addition to producing solar inverters, Siemens also manufactures motor control centers, enclosed motor starters, switchboards and control cabinets at the facilities. Siemens has renovated and modernized both buildings at the location, implementing a number of employee suggestions designed to improve productivity and efficiency.
"Siemens has been committed to the solar industry as early as the 1950s, and now we can better support our customer's need through our local manufacturing combined with our extensive portfolio of products, solutions and services," says Dale Langston, vice president for Siemens Industry's Control Components and Systems Engineering business unit.
Siemens photovoltaic (PV) inverters play a significant role in the generation of solar power. The technology that Siemens is providing takes DC power as input generated from PV-Modules and converts it into AC power, which is then relayed into the power grid. The West Chicago plant is capable of producing inverters with an annual output of approximately 500MW.
The solar industry is one of the fastest growing industries in the U.S., surpassing $6 billion in sales in 2010 with more than 2.6GW of installed solar capacity nationwide.
Siemens Industry
Siemens Industry, Inc. is the U.S. affiliate of Siemens' global Industry Sector business—the world's leading supplier of production, transportation and building technology solutions. The company's integrated hardware and software technologies enable comprehensive industry-specific solutions for industrial and infrastructure providers to increase their productivity, sustainability and profitability. The Industry Sector includes six divisions: Building Technologies, Industry Automation, Industry Solutions, Mobility, Drive Technologies and Osram Sylvania. With nearly 204,000 Siemens Industry Sector employees worldwide, the Industry Sector posted a worldwide profit of $4.7 billion on revenues of $47.3 billion in fiscal 2010. www.usa.siemens.com/Industry
Industry Automation
A division of Siemens Industry, Inc., the Industry Automation Division is a global leader in the fields of automation systems, low-voltage switchgear and industrial software. Industry Automation's portfolio ranges from standard products for the manufacturing and process industries to enterprise-wide automation solutions for automobile production facilities and chemical plants. As a leading software supplier, Industry Automation optimizes the entire value chain of manufacturers – from product design and development to production, sales, as well as a wide range of maintenance services. With nearly 33,000 employees worldwide, Industry Automation posted worldwide revenues of $8.4 billion in fiscal year 2010. www.usa.siemens.com/automation