Siemens - Sinamics G120C Inverter
The ideal solution for industrial-grade applications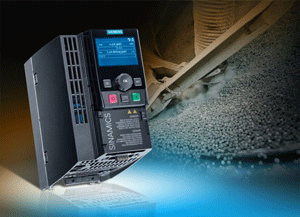 Siemens Industry, Inc. released today the new Sinamics G120C, a compact inverter designed for various industrial applications such as pumps, compressors and fans, as well as mixers, extruders, conveyor belts and materials handling machines. With a rated power range of 0.75 to 25 hp (0.55 to 18.5 kW), the Sinamics G120C sets new standards in the industry with its compact dimensions, fast commissioning times, simple operation, ease-of-servicing and highly-integrated functionality.
This compact inverter offers one of the highest power densities in its class. Compared to conventional systems on the market, the Sinamics G120C requires up to 30 percent less space, with up to 40 percent higher power output. Quick-connecting plug-in terminals allow faster installation.
An optional operator panel may be mounted to the inverter for commissioning. A port for inserting a memory card is also available for faster inverter commissioning. It can be configured using a PC, via USB interface, as well. Standard protective coatings on the PC boards make the unit extremely robust in hostile or corrosive environments. The new Sinamics G120C is designed for ambient temperatures of up to 140ºF (60ºC).
Each Sinamics G120C inverter features Safety Integrated as standard. The unit is equipped with dual safe inputs to control the STO (Safe Torque Off) function without the need for external devices. The G120C offers users the performance of the Siemens Sinamics platform, enabling precise, cost-effective control and more energy-efficient operation of induction motors.
For network communications, this new Sinamics G120C supports Profibus. It can also be directly integrated into other widely-used communications structures via USS protocol, ModBus RTU and CAN Open. The default setting on each G120C enables field bus operation without time-consuming configuration.