Siemens Industry, Inc. - Scalance X-200RNA (Redundant Network Access)
Nuremberg, Germany - The Siemens Industry Automation Division has expanded its portfolio of industrial network products with a fault-tolerant system solution for smooth and thus delay-free redundancy in Industrial Ethernet networks. The new Scalance X-200RNA (Redundant Network Access) network access points have been designed for all applications and sectors in which a network connection with particularly high fault tolerance is required. In addition to the Scalance hardware, Siemens also offers the Softnet-IE RNA software package with which PCs can be connected to parallel networks.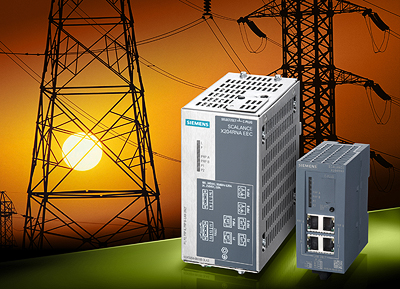 The Siemens Industry Automation Division offers a redundant solution based on the Parallel Redundancy Protocol (PRP) in accordance with the IEC 62439-3 standard. The X-200RNA Scalance access points connect one or two network segments or data terminals without PRP functionality over two parallel networks without delay. An access point duplicates the transmitter's message frame and feeds a copy into each of the connected networks. The two LANs can have different structures – star, ring or tree. At the receiver end, the second access point passes on the first message frame which arrives to the addressees. The message frame which arrives subsequently from the other LAN is discarded. The two separate networks and the PRP procedure guarantee secure and punctual transmission. A reconfiguration time as required by other redundancy procedures using only one physical network is therefore superfluous. Typical areas of application for fault-tolerant redundant connections can be found in the energy sector as well as in process automation, for example in the pharmaceutical or chemical industries.
Siemens offers the new access points as Scalance X204RNA in a plastic enclosure with four electric RJ45 ports as well as Scalance X204RNA EEC (Enhanced Environmental Conditions) in a metal enclosure with two electric ports and two electric/optical combined ports for SFP (Small Form-Factor Pluggable) transceivers and wide-range power supplies. Various information for network diagnostics is available via SNMP (Simple Network Management Protocol).
The Softnet-IE RNA software package can be used for linking PCs at low cost into redundant, parallel network topologies based on PRP without additional programming overheads. Using the Siemens software, a computer can establish the same smooth redundancy connection over two LAN networks as the Scalance X-200RNA network access points.
The Siemens Industry Sector (Erlangen, Germany) is the world's leading supplier of innovative and environmentally friendly products and solutions for industrial customers. With end-to-end automation technology and industrial software, solid vertical-market expertise, and technology-based services, the Sector enhances its customers' productivity, efficiency, and flexibility. With a global workforce of more than 100,000 employees, the Industry Sector comprises the Divisions Industry Automation, Drive Technologies and Customer Services as well as the Business Unit Metals Technologies.
The Siemens Industry Automation Division (Nuremberg, Germany) supports the entire value chain of its industrial customers – from product design to production and services – with an unmatched combination of automation technology, industrial control technology, and industrial software. With its software solutions, the Division can shorten the time-to-market of new products by up to 50 percent. Industry Automation comprises five Business Units: Industrial Automation Systems, Control Components and Systems Engineering, Sensors and Communications, Siemens PLM Software, and Water Technologies.