Siemens Industry, Inc. - Re-engineered Family of tiastar Motor Control Centers
New Arc Resistant MCCs Compliant with ANSI/IEEE C37.20.7 Standards
ATLANTA -- Siemens Industry, Inc. introduces its new family of tiastar Motor Control Centers (MCC) manufactured at its 200,000 square-foot plant in West Chicago, Ill. The new line of MCCs will offer a broad array of innovative feature sets tailored to the needs of vertical markets such as general construction, water and wastewater, oil and gas, and general process industries.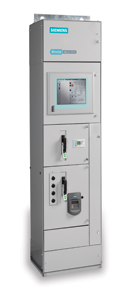 The new tiastar MCC line includes the first Arc Resistant MCC compliant to ANSI/IEEE C37.20.7, and it's criteria for containing and redirecting Arc Flash incident energy which has been successfully witness tested in the presence of Underwriters Laboratories (UL) representatives. The new SmartStart option features plug-and-play functionality which reduces commissioning time with pre-programmed and pre-configured data. High Density designs meeting UL and NEMA standards, while reducing unit size for NEMA 1 through starters, allow for up to a 10 percent weight reduction and a 25 percent smaller footprint.

"In addition to the re-engineered features of our tiastar Motor Control Centers, Siemens is able to leverage manufacturing efficiencies at our West Chicago plant to build, deliver, commission and service products with a quick turnaround," says Dale Langston, vice president for Siemens Industry's Control Components and Systems Engineering business unit. "The significant investments we have and will make into our West Chicago facility demonstrate our commitment to the U.S. as our manufacturing base for NEMA Motor Control Centers."

The new MCC family includes:
tiastar Base: Perfect for general construction, healthcare and hospitals, it features Siemens "Fast Lane" program for shipping in a matter of days.


tiastar HD: By maintaining a smaller footprint, this unit frees up valuable real estate in high-density environments like warehouses, distribution centers, high rise buildings, oil and gas offshore drilling, select applications in food and beverage and other places where space comes at a premium.


tiastar H2O: Designed specifically for the water and wastewater industries, this model offers integrated drives and protects assets by tracking deterioration in pumps and motors leveraging predictive diagnostics for a quick resolution of process issues. With SINAMICS Drives, the pump control operates more efficiently while keeping harmonic distortion at a minimum.


tiastar Smart: Designed for the advanced needs of high end process industries and leveraging Profibus technology, tiastar Smart offers increased operational transparency, advanced diagnostics and – specifically when compared against traditionally wired MCC – significantly easier troubleshooting and start up. Autonomous back-up function ensures continued operation in case a general network failure occurs.

Siemens Control Components and Systems Engineering business unit manufactures and markets products for commercial industrial applications. Headquartered in Norcross, GA, its products include IEC/NEMA control solutions, motor control centers, solar inverter systems and technical training. The business unit's customers include contractors, facility managers, OEMs, electrical distributors, end users and consulting specifying engineers.

Siemens Industry
Siemens Industry, Inc. is the U.S. affiliate of Siemens' global Industry Sector business—the world's leading supplier of production, transportation and building technology solutions. The company's integrated hardware and software technologies enable comprehensive industry-specific solutions for industrial and infrastructure providers to increase their productivity, sustainability and profitability. The Industry Sector includes six divisions: Building Technologies, Industry Automation, Industry Solutions, Mobility, Drive Technologies and Osram Sylvania. With nearly 204,000 Siemens Industry Sector employees worldwide, the Industry Sector posted a worldwide profit of $4.7 billion on revenues of $47.3 billion in fiscal 2010. www.usa.siemens.com/Industry

Industry Automation
A division of Siemens Industry, Inc., the Industry Automation Division is a global leader in the fields of automation systems, low-voltage switchgear and industrial software. Industry Automation's portfolio ranges from standard products for the manufacturing and process industries to enterprise-wide automation solutions for automobile production facilities and chemical plants. As a leading software supplier, Industry Automation optimizes the entire value chain of manufacturers – from product design and development to production, sales, as well as a wide range of maintenance services. With nearly 33,000 employees worldwide, Industry Automation posted worldwide revenues of $8.4 billion in fiscal year 2010. www.usa.siemens.com/automation