Siemens Industry, Inc. - Bumpless Redundant Industrial Ethernet RNA Modules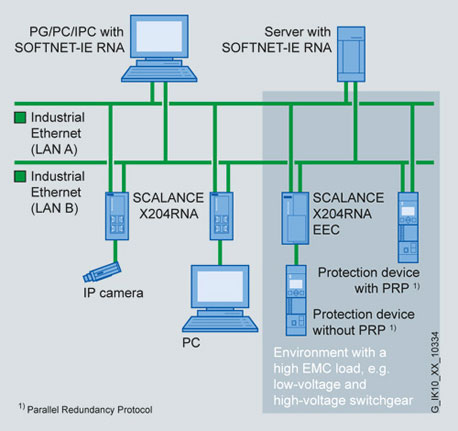 ATLANTA -- The new Scalance X-200RNA Redundant Network Access (RNA) modules from Siemens Industry, Inc. offer fault-tolerant, bumpless industrial Ethernet communications in new or existing networks.

Designed for applications demanding high network availability, the RNA modules cost effectively connect terminal devices into redundant network structures.

The Scalance X-200RNA modules comply with the IEC 63439-3 standard. Supported network architectures include star, ring or tree structures using Parallel Redundancy Protocol (PRP) or ring structures using High Availability Seamless Redundancy Protocol (HSR).

The RNA modules are available in either a plastic enclosure with four electric RJ45 ports, or a metal enclosure with two electric ports and two electric/optical combo-ports accommodating Small Form-Factor Pluggable (SFP) transceivers and a wide-range of power supplies. Each offers an IP20 degree of protection and is designed for cubical mounting. Diagnostics are readily available via LED, integrated Web server or signaling contact.

Additionally, Siemens Softnet-IE RNA software affordably connects PCs with two physical interfaces to parallel networks without adding program overhead or additional HW.

Siemens Industry Sector is the world's leading supplier of innovative and environmentally friendly products, solutions and services for industrial customers. With end-to-end automation technology and industrial software, solid vertical-market expertise, and technology-based services, the sector enhances its customers' productivity, efficiency and flexibility. With a global workforce of more than 100,000 employees, the Industry Sector comprises the Industry Automation, Drive Technologies and Customer Services Divisions as well as the Metals Technologies Business Unit.

The Siemens Industry Automation Division supports the entire value chain of its industrial customers – from product design to production and services – with an unmatched combination of automation technology, industrial control technology and industrial software. With its software solutions, the division can shorten the time-to-market of new products by up to 50 percent. Industry Automation comprises five Business Units: Industrial Automation Systems, Control Components and Systems Engineering, Sensors and Communications, Siemens PLM Software and Water Technologies.