Siemens Announces Machine Tool Retrofit Services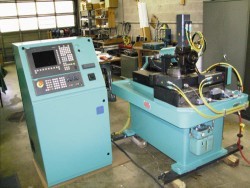 April 3, 2008 - In an effort to further improve its service and support to the machine tool end user community, Siemens Energy & Automation, Inc. (SE&A) has implemented its strongest initiative to date in the area of machine retrofits. This commitment evidences the SE&A directive to become a more visible and viable retrofit partner to the machine shops nationwide, who seek to improve their equipment performance and enhance their competitive position in their markets.

Effective immediately, Siemens is ramping up its Preferred Solution Partner program, through which Siemens CNC, motor and drive packages will be brought to the machine shop market by a nationwide network of qualified retrofitters. While these organizations and integrators will be responsible for installation, the service, application engineering assistance and aftermarket support will also be provided by Siemens, with all the warranty and back-up end users expect from any machine tool market supplier.

The Siemens Retrofit Business Development Manager, Tom Curfiss, a 35-year veteran of machine tool engineering, sales and retrofit work, will head up this group and is based in the company's facility in Lebanon, Ohio, near Cincinnati. Tom came to Siemens when the company acquired Cincinnati Machine in 1999.

Siemens has long been involved with machine tool retrofitting, first on a direct basis to support its OEM customers in their markets, then in cooperation with a single installer partner until April, 2007. With this new initiative, Siemens is forging relationships with a number of Preferred Solution Partners across the country. These companies have been selected for their market expertise, geographic territory coverage, machine tool line specialty or other factor that makes them the most viable adjuncts to the Siemens team.

According to Tom Curfiss, the retrofit jobs will typically involve the following process: A lead will be generated from either the Siemens sales force, Internet, trade show, advertisement, press release or other source, then Siemens will determine the most suitable partner to handle the job. After completing a cooperative preparation of a work needs assessment and pricing, Siemens and its partner will present its recommendations to the customer. Upon securing the order, the Siemens partner will complete the installation, with full guarantees and applicable warranties applied by the manufacturer. The partner will then be the direct contact for the work done, but Siemens will be in a full support and access mode at all times, for training, troubleshooting and general tech support activities.

Curfiss detailed the protoco he will follow. "When we determine the scope of the work needed, the proper partner will be selected. Generally, for smaller jobs, a local partner is best. On major, more complex or dedicated machine tool projects, where a certain level of expertise and perhaps greater manpower are required to properly effect the retrofit, we might look to a more regional or even one of our national partners in the program." He also acknowledged that Siemens plans to be intentionally limiting in its Preferred Solution Partner program, to ensure viability of the relationship, fulfillment of sales targets and a mutually satisfying business venture for all parties involved.

The current targets for securing these arrangements, according to Curfiss, comprise approximately six to 10 national organizations and about 12 to 20 regional and local partners. The program is being managed by the Machine Tool Business unit, reporting directly to SE&A.

According to Curfiss, there are two major reasons a shop decides to retrofit. The first is that the older controls and drives can no longer be serviced or are simply not able to run the machine in the most efficient manner, compared to newer technologies. He notes the recent encoder technology advancements simply make machines run faster, with greater precision and resolution, than older hardware, so that even if the older components can still get serviced, retrofitting makes sense. The second factor is a growing trend, even among smaller shops to upgrade capabilities.

He explains, "As smaller shops are seeking to upgrade their capabilities, to get more competitive or be more value-adding to current customers, they want to push their machines, often to levels that are impractical, given the original design. For example, the machine base, bearings and ways on an HMC may be as solid as the day they left the factory, but the controls simply won't allow the kind of precision machining a shop wants to do for, say, automotive or aerospace, where outsourcing is the watchword nowadays. Such shops can benefit greatly from considering a retrofit assessment."

Curfiss also reaffirmed the industry yardstick that says a retrofit job becomes workable when its cost does not exceed 60 percent of the price on a new machine. This is not always the case, he noted, citing such examples as the smaller shop that seeks to penetrate a new, higher precision market. Often in such cases, the retrofit might exceed the 60 percent level, but the gross savings still make it a worthwhile expense, especially with larger machining centers.

One Siemens Preferred Solution Partner already secured is Indiana Automation, a machine tool integrator and specialist in the fields of CNC/PLC retrofit, the replacement of outdated or unserviceable software and option expansion of resident hardware/software for various machining centers.

Trend retrofits grinder at sandusky international
One of the Siemens retrofit partners, Trend Machinery, Inc. of Willowbrook, Ill., recently completed a job on a four-axis, CNC Normac grinder at Sandusky International in Ohio. The machine is used to resharpen the gun drills that put thousands of holes into paper mill rollers. The grinder was no longer holding permissible tolerance positions, and replacement parts and service were getting increasingly difficult to obtain.

As Bob Gordon, president of Trend Machinery, explains, "The machine was sent to us, as it was not difficult to transport for evaluation. We determined what the equipment needed, including a Siemens 810D CNC to replace the original control, as well as 611U drives and 1FT6 motors, also from Siemens. An entirely new control console and enclosure were customized for Sandusky. We also replaced all the electronic hardware such as starters and relays." Additionally, all limit switches were replaced, motor mounts were modified and the grinding spindle was repaired.

The machine was returned to Sandusky with full electrical schematics, bill of material and program files, plus the Normac grinder was cleaned and completely repainted to customer specification. Trend supplied a one-year warranty on all parts, backed by the primary component supplier, Siemens.

Satisfaction with the job has been confirmed by Sandusky machining technician, Ron Gearhart. "The work was done on time, in a professional manner and at the price quoted. This was an excellent investment for our company, as the machine has been performing beyond our expectations." He noted this is due in part to the enhanced features on the new CNC. He further cited the thorough documentation supplied, the neat appearance of the controls and organization of the electrical panels as further evidence of a job well done.

Trend Machinery was founded in 1976 and is owned by John and Robert Gordon. The firm designs and builds custom machines, with a particular expertise in grinders. Trend also performs CNC retrofits to update obsolete controls, as well as motion control systems integration and turnkey machine conversions from manual to programmable operation.