SICK's New DT50 Raises the Bar for Distance Measurement
Low-cost, high-performance distance measurement sensor

Minneapolis, Minn., Feb. 11, 2009 – SICK (www.sickusa.com), one of the world's leading manufacturers of sensors, safety systems, machine vision, and automatic identification products for factory and logistics automation, today announced the launch of its new line of DT50 Distance Measurement Sensors. These cost-effective, high-performance sensors are ideal for automating production processes where budget and space were previously a constraint. The DT50 family of distance measurement sensors features a new High-Definition Distance Measurement (HDDM) platform that provides greater precision at longer sensing distances and an industry-leading operating temperature range and ambient light tolerance.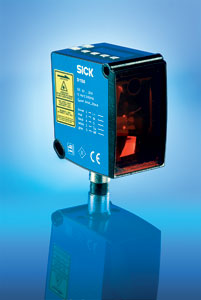 The DT50 provides high-performance distance measurement capabilities that help decrease operating and manufacturing costs by reducing scrap and increasing throughput. These lightweight, compact sensors feature an intuitive display and keypad with an easy-to-use push button for simple teach-in and programming. While the DT50 is ideal for a variety of existing distance measurement applications, this new family of sensors can also be used in new applications, such as elevator car positioning; level detection in hoppers, bins, silos, and chutes; and pre-process and closed loop feedback in metal forming applications.

About SICK
SICK is one of the world's leading manufacturers of sensors, safety systems and automatic identification products for industrial applications. With nearly 450 patents, SICK continues to lead the industry in new product innovations. The diversity of its product line allows SICK to offer solutions at every phase of production in the logistics, automotive, packaging, electronics, food and beverage, and material handling markets. SICK was founded in 1946 and has operations or representation in 65 countries worldwide.

Contact:
Tracie Manor, Public Relations
952-829-4728