SICK Launches World's First High-speed 3D Camera that also Measures Color
ColorRanger E allows plants to improve uptime in packaging, automotive and electronics applications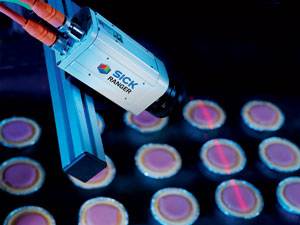 SICK, one of the world's leading manufacturers of sensors, safety systems, machine vision, and automatic identification products for factory and logistics automation, today announced the launch of the world's first high-speed 3D camera with high-quality color capability. By measuring both the 3D shape and the color of objects more reliable decisions can be made, allowing production plants to improve their uptime, throughput, and product quality. The ColorRanger E replaces the need for several different cameras for the same task, which reduces the solution cost and complexity.
ColorRanger E Cameras are used to solve various inspection tasks by measuring shape, contrast, and surface defects, to ensure product quality and production reliability. The ColorRanger E expands the inspection possibilities further by also providing high-resolution RGB color at up to 3072 pixels per channel. With simultaneous 3D and color information at more than 11 kHz, multiple inspections can be performed in parallel at full production speed.
Using 3D imaging is ideal when height, shape, or volume is important to the production process. To ensure complete quality or make a grading decision, it is often necessary to consider the color of the parts/objects produced. This is common when grading fruits and vegetables; shape and baking degree verification of baked goods; board grading in the wood industry; quality assurance of electronic assemblies; and fill level and color verification in the cosmetics and pharmaceutical industries.
About SICK
SICK is one of the world's leading manufacturers of sensors, safety systems and automatic identification products for industrial applications. With nearly 450 patents, SICK continues to lead the industry in new product innovations. The diversity of its product line allows SICK to offer solutions at every phase of production in the logistics, automotive, packaging, electronics, food and beverage, and material handling markets. SICK was founded in 1946 and has operations or representation in 65 countries worldwide.