SICK Launches Two New Laser Measurement System Sensors for Outdoor Anti-Collision and Indoor Profiling Applications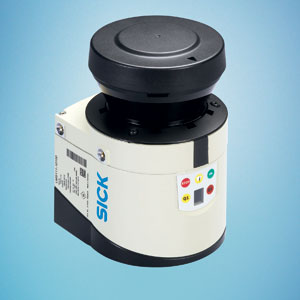 Minneapolis, Minn., – August 24, 2009. SICK (www.sickusa.com), one of the world's leading manufacturers of sensors, safety systems, machine vision, and automatic identification products for factory and logistics automation, today announced the new LMS100 and LMS111 series of non-safety rated laser measurement system sensors. The LMS111 Laser Measurement System is a non-contact sensor specifically designed for outdoor anti-collision environments. The LMS100 is designed for indoor profiling applications. Both sensors have advanced filtering technology to eliminate false trips in measurement applications.

These compact laser measurement sensors have adjustable mounting configurations and are rated IP 67, able to stand up to wet weather conditions. The LMS100 and LMS111 also offer extremely flexible software that is well suited for a variety of applications, including those in outdoor environments, material handling, robotics, and mobile vehicles. By using the free SICK SOPAS configuration tool, a user can configure the sensors with up to 10 detected fields, multiple I/O, and Boolean logic.

The LMS111 is ideal for container ports, retrofitting RMG and RTG type cranes for anti-collision applications. Applications for the LMS100 Laser Measurement System are in the material handling market.

About SICK
SICK is one of the world's leading manufacturers of sensors, safety systems and automatic identification products for industrial applications. With nearly 450 patents, SICK continues to lead the industry in new product innovations. The diversity of its product line allows SICK to offer solutions at every phase of production in the logistics, automotive, packaging, electronics, food and beverage, and material handling markets. SICK was founded in 1946 and has operations or representation in 65 countries worldwide.
Contact:
Tracie Manor, Public Relations
952-829-4728
www.sickusa.com