SICK Launches New Magnetic Cylinder Sensors
New Cost-effective and Accurate Solutions for Piston Detection
Minneapolis, Minn., May 7, 2009 – SICK (www.sickusa.com), one of the world's leading manufacturers of sensors, safety systems, machine vision, and automatic identification products for factory and logistics automation, today announced the launch of its MPS (Magnetic Positioning Sensor) and MZT8 Magnetic Cylinder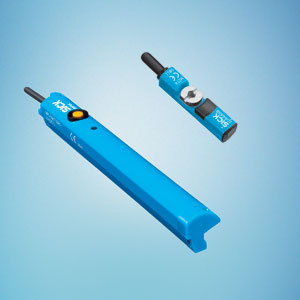 Sensors. The MPS with analog output is fast, accurate, and easy to install. It is ideal for measuring pneumatic cylinders and grippers. The MPS offers the fastest sampling rate, which accommodates applications on fast machines and increases efficiency. The new MZT8 Sensor has a low tolerance rate of 5% (compared to industry norm of 25%), affording excellent repeatability and provides accurate single point position feedback of the piston location.
MPS
The MPS is a non-contact linear measurement solution with 4 – 20 mA and 0 – 10 V analog output for cylinders and grippers with various stroke sizes. The MPS is the only cylinder sensor solution on the market that offers four different stroke sizes: 32, 64, 96 and 128 mm, providing increased measurement flexibility to better meet customers' needs. Also, the MPS is easy to install and set up due to single-button, adjustable teach-in of the zero and final point. The MPS offers superior precision: with 0.1 mm repeatability, a 0.5 ms measurement rate, and 0.05 mm resolution. Moreover, it offers efficient measurement of the stroke due to minimal blind zones.
MZT8
The MZT8 is the most flexible and compact pneumatic cylinder sensor for t-slots. The MZT8 offers the shortest sensor housing length on the market - only 24 mm, ideal for short stroke cylinders and small mounting spaces. Also, the MZT8 has a custom ASIC chip with GMR technology inside that provides the most precise magnetic piston detection with only +/- 5% sensitivity tolerance. All other competitor sensors have +/- 25% sensitivity tolerance. Plus, the MZT8 has an active sensor tip (sensing element) that provides more precise piston detection at the end of stroke as it reduces travel loss.
About SICK
SICK is one of the world's leading manufacturers of sensors, safety systems and automatic identification products for industrial applications. With nearly 450 patents, SICK continues to lead the industry in new product innovations. The diversity of its product line allows SICK to offer solutions at every phase of production in the logistics, automotive, packaging, electronics, food and beverage, and material handling markets. SICK was founded in 1946 and has operations or representation in 65 countries worldwide.
Contact:
Tracie Manor, Public Relations
952-829-4728