SICK Launches New Luminescence Sensors with Improved Performance
LUT8 and LUT9 offer cost-effective solution for demanding luminescent mark detection applications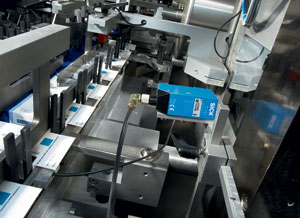 Minneapolis, Minn., Oct. 19, 2009 – SICK (www.sickusa.com), one of the world's leading manufacturers of sensors, safety systems, machine vision, and automatic identification products for factory and logistics automation, today announced the launch of its LUT8 and LUT9 luminescent sensors. Luminescent sensors react to luminescent pigments, which are activated by a UV light source in the sensor. These cost-competitive, high-performance sensors provide longer sensing ranges and more selection models than previous versions. The LUT9 also offers additional advancements, including selectable dual light ports, IO-Link for remote monitoring and 2-point teach-in, making it the best performing luminescence sensor on the market.
These cost-effective, high-performance sensors are ideal for applications requiring high accuracy luminescent mark detection in packaging, food and beverage, automotive, lumber, pharmaceutical, print, postal and general manufacturing markets. The LUT8 and LUT9 offer wavelength adjustments to easily identify difficult-to-detect luminescence characteristics, particularly luminescent marks in recycled materials. Different light spot patterns and a high visibility bar graph display, which illuminates when the higher luminescent intensity is detected, provide increased installation flexibility. Plus, LUT9 versions with IO-Link capabilities provide continuous monitoring adjustments to process parameters, enabling simple, cost-effective diagnostics – even from remote locations.
About SICK
SICK is one of the world's leading manufacturers of sensors, safety systems and automatic identification products for industrial applications. With nearly 450 patents, SICK continues to lead the industry in new product innovations. The diversity of its product line allows SICK to offer solutions at every phase of production in the semiconductor, automotive, packaging, electronics, food and beverage, and material handling markets. SICK was founded in 1946 and has operations or representation in 65 countries worldwide.
Contact:
Tracie Manor, Public Relations
952-829-4728