SICK Launches New ICR845-2L FlexLens Image Code Reader for Long-range Applications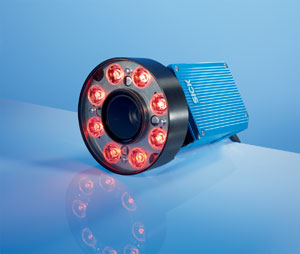 C-mount lens options enable users to read bar codes positioned 12 inches to 2 meters away
Minneapolis, Minn., Jan. 27, 2009 – SICK (www.sickusa.com), one of the world's leading manufacturers of sensors, safety systems, machine vision, and automatic identification products for factory and logistics automation, today announced the launch of the ICR845-2L FlexLens Image Code Reader. The ICR845-2L FlexLens is a vision-based, omni-directional image code reader with exceptional reading and decoding performance of stationary and fast-moving bar codes. It is ideal for long-range bar code reading applications in the logistics, courier/express, postal and automotive industries.
The ICR845-2L offers different C-mount lens options for reading bar codes positioned 12 inches to 2 meters away from the image code reader. These large scanning distances enable the ICR845-2L to be mounted farther from the target, ensuring the image code reader doesn't interfere with production lines. The ICR845-2L also offers a large field of view and depth of field, providing high read rates regardless of where the bar code is positioned on the object or conveyor. In addition, live image capture and analysis capabilities via on-board Ethernet improve productivity and help users quickly troubleshoot problems.
About SICK
SICK is one of the world's leading manufacturers of sensors, safety systems and automatic identification products for industrial applications. With nearly 450 patents, SICK continues to lead the industry in new product innovations. The diversity of its product line allows SICK to offer
solutions at every phase of production in the logistics, automotive, packaging, electronics, food and beverage, and material handling markets. SICK was founded in 1946 and has operations or representation in 65 countries worldwide.
Contact:
Tracie Manor, Public Relations
952-829-4728