SICK Launches Inspector I40 Flex Vision Sensor
Faster inspection speeds and higher resolution provide increased throughput and better image quality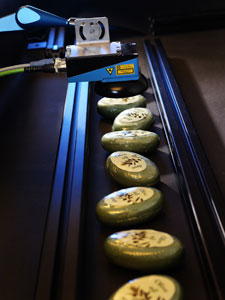 Minneapolis, Minn., Dec. 17, 2009 – SICK (www.sickusa.com), one of the world's leading manufacturers of sensors, safety systems, machine vision, and automatic identification products for factory and logistics automation, today announced the launch of the Inspector I40 FLEX Vision Sensor. The I40 FLEX offers the fastest inspection speeds and the highest resolutions within the Inspector Vision Sensor family. This powerful sensor keeps up with the speed of nearly any production line to verify completeness and quality – no matter what angle or orientation your product comes down the line.
The I40 FLEX's fast inspection speed increases throughput, while a higher resolution of 640 x 480 enables the I40 FLEX to provide the best image quality within the Inspector family. In addition to increased speed and higher resolution, the I40 provides more connectivity and storage capabilities. The I40 FLEX is the only vision sensor on the market to provide Ethernet IP connectivity, giving more detailed trend data about the efficiency of processes. The I40 also offers additional storage capabilities that allow users to save an unlimited number of images to an offline system or a server, making it easier than ever to track and trace vision inspections.
About SICK
SICK is one of the world's leading manufacturers of sensors, safety systems and automatic identification products for industrial applications. With nearly 450 patents, SICK continues to lead the industry in new product innovations. The diversity of its product line allows SICK to offer solutions at every phase of production in the logistics, automotive, packaging, electronics, food and beverage, and material handling markets. SICK was founded in 1946 and has operations or representation in 65 countries worldwide.
Contact:
Tracie Manor, Public Relations
952-829-4728