SICK Launches CLV650 and CLV640 Bar Code Scanners
Powerful, flexible, easy-to-use solutions for high-performance applications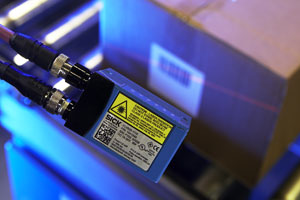 Minneapolis, Minn., Oct. 26, 2009 – SICK (www.sickusa.com), one of the world's leading manufacturers of sensors, safety systems, machine vision, and automatic identification products for factory and logistics automation, today announced the launch of its CLV650 bar code scanners with autofocus technology and the CLV640 bar code scanners with dynamic focus. These new bar code scanners augment SICK's CLV600 family of flexible and easy-to-use 1D bar code scanners. With a simple setup process, exceptional reading performance and flexible data handling capabilities, these scanners are ideal for high-performance bar code reading applications in the material handling and logistics markets.
The CLV650 and CLV640 are compact bar code scanners that use proprietary SMART (SICK's Modular Advanced Recognition Technology) code reconstruction algorithms and high-performance microprocessors, enabling them to read damaged and dirty bar codes. The CLV650's autofocus feature, distance measurement technology, and expertly engineered optics give it a competitive advantage in applications where space is limited and large depth of field is required. In addition, the CLV640 is a cost-effective option for reading high density codes and for providing increased depth of field in applications requiring an external input to change the focus position.
These bar code scanners feature data handling capabilities to execute a wide variety of user-configurable logic, output data filtering, and sorting functions. Plus, SICK's easy-to-use SOPAS software helps reduce programming and processing requirements of the host system. An embedded web page can also be configured to provide statistical performance and diagnostic data to remote locations over the Internet using standard browser software.
About SICK
SICK is one of the world's leading manufacturers of sensors, safety systems and automatic identification products for industrial applications. With nearly 450 patents, SICK continues to lead the industry in new product innovations. The diversity of its product line allows SICK to offer solutions at every phase of production in the semiconductor, automotive, packaging, electronics, food and beverage, and material handling markets. SICK was founded in 1946 and has operations or representation in 65 countries worldwide.
www.sickusa.com


Contact:
Tracie Manor, Public Relations
952-829-4728