SICK Announces New Product Catalog for Registration Sensors
rong>Registration sensors are ideal for reliable detection and differentiation of contrasts, colors, fluorescent materials, and more

Minneapolis, Minn. – SICK, one of the world's leading manufacturers of sensors, safety systems, machine vision, and automatic identification products for factory and logistics automation, today announced the availability of its new product catalog, "Registration Sensors." The user-friendly, illustrated catalog highlights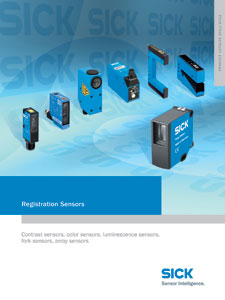 SICK's contrast, color, luminescence, fork and array sensor families.

The catalog includes clear application descriptions, benefits and detailed technical data for each registration sensor in one convenient location. It provides helpful, easy-to-understand graphics that show applications, connection types, dimensions, adjustments, sensing distances and more. The Registration Sensor Catalog is available to download at www.sickusa.com/registrationsensor.

SICK offers the most comprehensive range of registration sensors on the market and is a pioneer in sensing technology. The company invented the first print mark control device more than 60 years ago and continued on to develop the first luminescence and color sensors.

Registration sensors are used in a number of industries, such as packaging, wood processing, print, and paper to detect color, contrast and fluorescent materials and marks. Applications range from positioning cans and labels to color verification to detecting invisible marks on products.

About SICK
SICK is one of the world's leading manufacturers of sensors, safety systems and automatic identification products for industrial applications. With nearly 450 patents, SICK continues to lead the industry in new product innovations. The diversity of its product line allows SICK to offer solutions at every phase of production in the logistics, automotive, packaging, electronics, food and beverage, and material handling markets. SICK was founded in 1946 and has operations or representation in 65 countries worldwide.