Shuttleworth to Showcase Innovative Collaborative Conveyor with Fenceless Technology at Pack Expo 2016
HUNTINGTON, IN - Shuttleworth LLC, a premier manufacturer of material handling solutions will showcase its collaborative conveyor with the innovative fenceless technology featuring the FANUC LR Mate 200iD robot.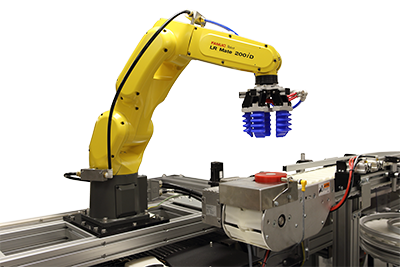 The Fanuc LR Mate 200iD is a 6-axis articulated robot featuring fenceless technology which safely monitors the position or speed of the robot and shuts down motor power when the defined safety parameters are exceeded.
The robot is integrated with Rockwell Automation's SafeZone Mini Safety Area scanner and Soft Robotics' end-of-arm tooling.
"Generally, collaborative robots work with human operator side-by-side but the difference between fenceless technology and collaborative is the speed," stated Michael Liu, Engineering Manager for Shuttleworth. "Our work cell demonstrates the robot running at 100% speed in normal operating zone. If human intervention is required, the robot will reduce speed and go to zero speed to allow correction or inspection needed. No access buttons or reset is required."
Shuttleworth's collaborative systems meets Safety Category 3 PLd and the requirements of ANSI/RIA/ISO/EN 10218-1 for safety performance.
Visit Shuttleworth at booth #S-3730 at Pack Expo to see this innovative technology.
About Shuttleworth
Since 1962, Shuttleworth has served as a leading designer, consultant, and manufacturer of solutions to solve whatever material handling challenge you might face. When you need a conveyor system that will accumulate, flip, stack, rotate, push, divert, or index your products between manufacturing or packaging processes, we can design and build it. Year after year, we continue to revolutionize our industry with Slip-Torque® technology and conveyor system and equipment innovations that are as unique as your product line. Shuttleworth is headquartered in Huntington, IN and also operates a manufacturing facility near Gent, Belgium and maintains a sales and engineering office in Kuala Lumpur, Malaysia.
Shuttleworth is powered by Pro Mach, a Cincinnati, Ohio based provider of integrated packaging and processing products and solutions for food, beverage, consumer goods, pharmaceutical, and other diverse companies. Through multiple brands, Pro Mach provides product packaging and processing equipment, PMMI certified training, installation, parts, and service in Bottling & Capping, Primary Packaging, Flexible Packaging, Material Handling, Identification & Tracking, and End of Line Packaging.