SF30 Fiber Adapter for Prox Light® Series of Single LED Spotlights
rong>Smart Vision Lights Introduces SF30 Fiber Adapter for Prox Light® Series of Single LED Spotlights Designed for Easy Integration into any Machine Vision Application

Muskegon, Mich. - Smart Vision Lights - a leading designer and manufacturer of high-brightness LED lights for industrial applications, including machine vision - is pleased to introduce the SF30 Fiber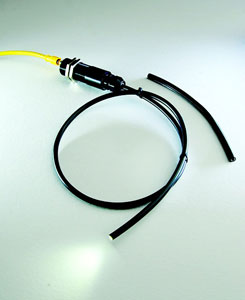 Adapter to the Prox Light® series of single LED spotlights for illuminating tight spaces in industrial applications, including machine vision systems.

The SF30 Fiber Adapter was designed with flexibility and focus in mind. The SF30 Fiber Adapter comes with a 1-meter plastic fiber bundle for illuminating extremely tight areas where small spotlights cannot be used. Whether it is bending around objects or peering into a small hole, the SF30 maintains the intensity and focus pattern of the light. The plastic fiber can be trimmed to shorter sizes, and longer fibers are also available.

The Prox Light series of spotlights feature single 5W LEDs housed in small 30mm barrels sensor housings. The housings are industry standard threaded barrel M30x1.5 style used for proximity and photoelectric sensors. The lights are available in white, red, amber, blue, green cyan, IR and UV light output. Like the entire line of Smart Vision Lights, the Prox Light series includes an integrated constant current driver inside every light along with built-in strobe input with option for PNP or NPN trigger control. The integrated driver eliminates the need for wiring between the light and external driver and limits current to the LED while providing constant stable power. The light's PNP or NPN strobe triggers control light pulse timing.

The Prox Light series of spotlights includes the S30 Prox Light, ODSA30 Prox Light, SA30 Prox Light, ODS20 Prox Light with OverDrive and the SW30 Prox Light.


The S30 Prox Light features a 5W, high-brightness (HB) high-current LED running up to 1.4 Amps with build in SMART driver with PNP and NPN strobe.
The ODSA30 Prox Light features a sliding barrel that provides adjustable output and a uniform homogenous pattern of light and optics that provide an extremely tight focused adjustable light.
The SA30 Prox Light is an adjustable tight focus spot light with integrated optics that allows the user to increase or decrease the size of the focused spot simply by extending or retracing the barrel providing flexibility to adjust the spot as needed.
The ODS30 Prox Light with OverDrive features the highest power LED lights in the vision industry and is capable of achieving up to five times the light intensity of standard high current LED lights.
The SW30 Prox Light's stainless steel design meets FDA standards for corrosion resistance in food and pharmaceutical applications and is corrosion resistant.
As with all Smart Vision Lights products, the Prox Light series comes with universal, internal driver for simplified wiring, fully complies with IEC eye safety standards, and comes with a 10-year manufacturers warranty with product registration. Visit smartvisionlights.com/warranty for more details.

About Smart Vision Lights
Smart Vision Lights (Muskegon, Mich.) is a leading designer and manufacturer of high-brightness LED lights for industrial applications, including machine vision. Smart Vision Lights come with universal, internal current-control drivers, offering constant or strobed operation, reduced wiring requirements, and easy installation. Smart Vision Lights also are the safest on the market thanks to our in-house IEC 62741 light-testing laboratory, guaranteeing conformity and compliance for your lighting systems regardless of where they are installed around the globe. Learn more at SmartVisionLights.com or by calling (231) 722-1199 in the U.S.