Series Production Starts for the New Basler ace Models with PYTHON Sensors from ON Semiconductor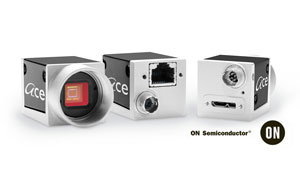 Effective immediately, twelve new Basler ace models are available with CMOS sensors from ON Semiconductor's PYTHON series.
Ahrensburg – Camera manufacturer Basler is expanding its portfolio by adding new ace models with CMOS sensors from ON Semiconductor's PYTHON series. The twelve new cameras offer resolutions from VGA to 1.3 megapixels and frame rates of up to 750 fps. Starting at 335 euros, they represent a highly attractive price/performance ratio.
The new ace models stand out in particular for their compact design combined with powerful CMOS sensors featuring the latest global shutter technology. The twelve new ace cameras conform to the GigE Vision and USB3 Vision standards.
Sören Böge, Product Manager for the Basler ace product line, explains: "The combination of the successful Basler ace series and these powerful sensors leaves no wish unfulfilled. Their excellent image quality and enormous speed makes these models especially well-suited for applications in the fields of factory automation, medical technology and traffic."
About Basler
Basler is a leading global manufacturer of digital cameras for industrial and retail applications, medical devices, and traffic systems. Product designs are driven by industry requirements and offer easy integration, compact size, excellent image quality, and a very strong price/performance ratio. Founded in 1988, Basler has more than 25 years of experience in vision technologies. The company employs 500 people at its headquarters in Ahrensburg, Germany, as well as in international subsidiaries and offices in Europe, Asia, and the Americas.
Company Contact
Kira Heikaus – Communications Specialist
Tel: +49 4102 463 661