Series Production Launches for the new Basler ace Models with Sony's IMX174 CMOS Sensor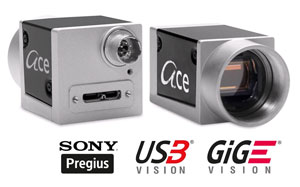 Starting in June, four new Basler ace models will be available with Sony's IMX174 CMOS sensor. These models represent an ideal replacement for CCD cameras.
Ahrensburg – Camera manufacturer Basler is expanding its portfolio to include new ace models with Sony's IMX174 global shutter CMOS sensor from the Pregius series. The four new camera models stand out for their compact design and large, powerful sensors working with the latest CMOS technology. The cameras deliver up to 155 frames per second at 2.3 MP resolution.
The most notable features on the new Basler ace cameras with the IMX174 sensor are high quantum efficiency, wide dynamic range and extremely low noise. This means that these camera models attain extraordinary strong image quality even in extremely difficult lighting situations – making them an ideal replacement for CCD cameras.
Jana Bartels, Product Manager for the Basler ace product line, explains: "The combination of the Basler ace, one of the most successful camera series in the market in recent years, and these highly powerful sensors leaves no wish unfulfilled. Our new ace models are fast, extremely sensitive, and very small and lightweight. Because of this you can use them in a number of challenging applications, including factory automation, the transportation and logistics sector as well as in microscopy and medical technology."
About Basler
Basler is a leading global manufacturer of digital cameras for industrial and video surveillance applications, medical devices, and traffic systems. Product designs are driven by industry requirements and offer easy integration, compact size, excellent image quality, and a very strong price/performance ratio. Founded in 1988, Basler has more than 25 years of experience in vision technologies. The company employs almost 500 people at its headquarters in Ahrensburg, Germany, as well as in international subsidiaries and offices in the U.S., Singapore, Taiwan, China, Japan, and Korea.
Company Contact
Gerrit Hörentrup – Communications Specialist
Tel: +49 4102 463 661