Sergio Resendiz becomes new Vice President Americas at Leuze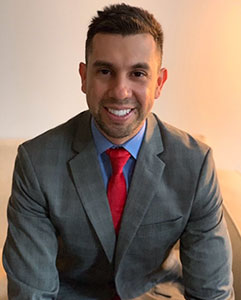 With Sergio Resendiz, Leuze welcomes a new Sensor People. With immediate effect, he will be accompanying the function of Vice President Americas.
Sergio Resendiz is the new Leuze Vice President Americas and reports directly to the CEO of the Leuze electronic Group Ulrich Balbach. Born in Mexico, he has lived in the USA most of his life. Resendiz also received a MA degree in Management and Finance and a BS degree in Mechanical Engineering in the US. Through his numerous professional assignments in sales, sales management, and senior management in industrial automation - most recently as Vice President of Sales Americas, Global Accounts for Belden´s Industrial Solutions division - he has built up a wealth of experience in the areas of control, industrial networking (OT), and cyber security. He will be actively and ambitiously contributing this wealth of experience to Leuze. Resendiz is not only an avid competitor in the sporting field - he also seeks challenge in his profession and has his goals clearly identified. When asked about his professional vision and motivation, he explains: "Leuze is a strong brand; making it better known in the Americas and building Leuze into a strong performance organization are my top priorities - that type of challenge fuels me to be better."
About Leuze Electronic
With curiosity and determination, the Sensor People from Leuze have been innovators for technological milestones in industrial automation for more than 50 years. They are driven by the success of their customers. Yesterday. Today. Tomorrow. The Leuze product range includes switching and measuring sensors, identification systems, data transmission and image processing solutions, and machine safety components and systems. The focus of their work is in the areas of intralogistics, packaging, machine tools, automotive industry, and laboratory automation. Leuze was founded in 1963, headquartered in Owen/Teck in Southern Germany. Today, there are more than 1,200 Sensor People around the world working with a great deal of experience and dedication to ensure the lasting success of their customers in a changing industry - be it in the technological competence centers or in one of the 20 sales companies supported by more than 40 international distributors.