Second Largest Austrian Retailer Maximizes Distribution Center Efficiency with NDC Suite Technology
Standard forklifts outfitted with automated guided vehicle (AGV) control solutions result in increased transportation efficiency and reduced operating costs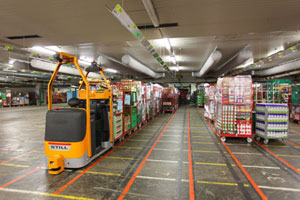 RADFORD, VA, April 28, 2010 – Kollmorgen announces that SPAR Österreichische Warenhandels AG, the second largest retailer in Austria, has installed a system that automates the transportation of roll containers filled with fresh and chilled goods, from the picking area to the loading dock, at their distribution center in St. Pölten. The new system was supplied by KNAPP Systemintegration GmbH, and consists of four standard warehouse forklifts automated with the NDC Suite technology from Kollmorgen.
"We had a constructive and flexible collaboration with KNAPP and Kollmorgen during the design and implementation phase of the project, and by automating forklift transportation we've maximized the productivity of our warehouse operators by eliminating the non-productive steps from their job. After roughly 8 months of using the system, we have realized significant operating efficiencies and overall reduced costs; the system is well on its way to paying for itself," says Mr. Huber, Operations Manager of SPAR.
The distribution center in St Pölten serves 350 stores and on peak days, a loaded truck leaves the warehouse every six minutes. The automated forklifts move at a speed of 1.5 m/s in forward operation and 1.0 m/s in reverse, which means that orders are processed rapidly. The automated forklifts are also handling the recurring tasks, freeing warehouse personnel to focus on peak hours and days – and with the new system, peak demand times are no longer a resource problem. To help respond to periods of peak demand, manual forklifts are often used alongside the automated forklifts.
"During periods of peak demand there is heavy traffic in the warehouse, and the automated and manual forklifts use the same transport routes at the same time. The traffic management functionality and safety sensors ensure smooth traffic flow, personnel safety and collision avoidance," explains Mr. Huber.
As a result of the success of this initial operation, SPAR plans to introduce forklifts automated with the NDC Suite technology at additional warehouses in the future.
Kollmorgen, a leading manufacturer of driverless control technology, and KNAPP Systemintegration GmbH, a leading warehouse automation specialist, are strategic global partners in warehouse applications for automated order-picking and automated transportation based on the NDC Suite technology. Kollmorgen control solutions are applied in more than 15,000 lift trucks around the globe. The company's laser navigation platform is already successfully guiding well over 7,000 lift trucks between their destinations day after day.
NDC Suite from Kollmorgen is a complete automated guided vehicle (AGV) control solution that promises lower total costs for system integrators and end-users. The heart of NDC Suite is the NDC8 – Kollmorgen's applications-independent and scalable control module that works with all AGVs, from the small and simple to the big and complex. It is also easy to integrate with host systems and material handling systems, and because the same platform is used everywhere, the same engineering skill set applies for all types of applications.
ABOUT KNAPP
The KNAPP AG ranks among the leading system and solution providers in warehouse logistics and warehouse automation. The 26 subsidiaries and offices around the world underline the international character of the company group with its headquarters in Hart bei Graz, Austria.
As a solution provider, the KNAPP group delivers everything for the modernization or remodeling of distribution warehouses in trade and production from a single source - from system development, installation and start-up to comprehensive after-sales support. The range of products spans from customer-specific adaptations of patented logistics components for warehouse and automation projects, tailored systems for major customers that meet every demand of efficient logistics solutions, to the servicing and maintenance of existing warehouses.
More than 55 years of experience and know-how from more than 1200 successful projects today make KNAPP a global player in the development and production of conveyor systems, picking systems, logistics for warehouses and warehouse logistics software..
ABOUT KOLLMORGEN
Kollmorgen is a leading provider of motion systems and components for machine builders around the globe, with over 60 years of motion control design and application expertise.
Through world-class knowledge in motion, industry-leading quality and marketshare, and 35 years of proven performance in driverless control technology, Kollmorgen continues to deliver breakthrough driverless control solutions unmatched in performance, reliability and ease-of-use, giving warehouse operations an irrefutable marketplace advantage. Kollmorgen technology and expertise was integral to the world's first automobile production plant with driverless vehicles (1972), laser-guided vehicle (1990), Pick-n-Go system (2007) and 170 metric ton driverless vehicle with 16 controlled wheels (2009).