Second Generation High-performance Camera System Offers Highest Available Resolution and Best Image Quality
ICR890-2000 designed to improve efficiency of logistics processes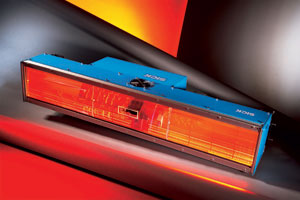 Minneapolis, Minn. – SICK (www.sickusa.com), one of the world's leading manufacturers of sensors, safety systems, machine vision, and automatic identification solutions for factory and logistics automation, today announced the launch of its second generation ICR890 Camera System. The ICR890-2000 is a CCD-based system that reads 1D and 2D bar codes used in high-performance sortation systems. It provides the highest available resolution and the best image quality on the market. It also offers an integrated real-time JPEG encoder that allows for high quality images that take up less storage space. The ICR890 has been updated to include increased processing power, support of multiple image output paths, optimized decoders, and extended XML file content.
The ICR890-2000 Camera System is ideal for sortation applications in the retail distribution, food and beverage, automotive, parcel, postal, and airline baggage handling industries. Excellent image quality, high-speed processing, and a fully integrated modular design make the ICR890 suitable for all application types--from single-sided reading stations to high-speed multiple sided scanning arrays over today's most advanced belt conveyors and tilt-tray sorting systems.
The ICR890-2000 Camera System is designed on a modular platform that permits separation of camera and illumination for simplified installation and serviceability. The illumination is fully integrated and the output is completely self-monitored to provide even lighting over a wide range of reading situations without ever needing adjustment. Digital focal control with no moving parts and a high-performance decoder combine to deliver maximum speed and performance.
Features and benefits include:

• Superior image quality allows for optimized read rate, OCR and VCS
• Fast and reliable identification, including poorly printed codes
• Constant resolution over the entire DOF
• Easy configuration
• Remote diagnosis
• Modular design enables short MTTR (<10 minutes)
• High reliability (80,000 h MTBF)
• Low cost of ownership
• Virtually maintenance-free, no cyclic calibrations
• Uses an embedded network controller that combines integrated interfaces for communication across Ethernet, PROFIBUS, CAN, USB and serial devices.
About SICK
SICK is one of the world's leading manufacturers of sensors, safety systems, machine vision and automatic identification products for industrial applications. With nearly 450 patents, SICK continues to lead the industry in new product innovations. The diversity of its product line allows SICK to offer solutions at every phase of production in the logistics, automotive, packaging, electronics, food and beverage, and material handling markets. SICK was founded in 1946 and has operations or representation in 65 countries worldwide.