SCHUNK SRM Universal Rotary Unit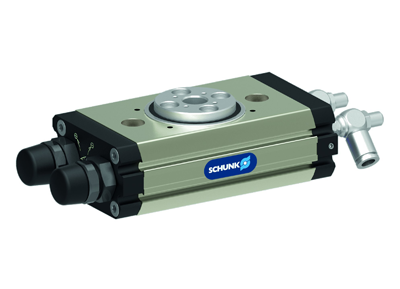 The SCHUNK SRM universal rotary unit ensures high performance for production automation. It significantly stands out when compared to existing rotary modules on the market.
Compact and cost-effective, the SRM features up to 25% higher torque when compared to previous models. Internal shock absorbers provide higher inertia capacity as well as faster swivel times when compared to the current top-rated SCHUNK SRU-plus.
The standard SRM offers a larger pinion mounting surface for better stability and large center bore for feeding through items like cables and hoses. Modular air feed-though and electrical feed-though versions are available as factory options or as field installed items.
The SCHUNK SRM is available in sizes 16, 32 and 40. Other sizes and options to follow.
About SCHUNK
SCHUNK is a German family-owned company and global player in one. More than 2,500 employees in 8 plants and 30 directly owned subsidiaries and distribution partners in more than 50 countries throughout the world ensure an intensive market presence. SCHUNK designs and manufactures an unmatched selection of clamping technology and gripping systems.