SCHUNK PRG 2-Finger Radial Gripper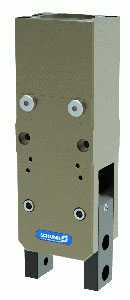 The new PRG 2-Finger Radial Gripper from SCHUNK combines high gripping moments with small dimensions. The integrated pneumatic oval piston drive guarantees maximum power density.
Radial gripping motions are often achieved by integrating a slotted link gear. Existing links cause an extreme reduction in the gripping moment, if the opening angles are rather small. SCHUNK has found a solution for such an application; the patented Single-Pin guide rail which ensures a constant closing moment throughout the gripping range. The new PRG did not change in dimensions and can reliably grip larger workpieces or workpieces with a larger tolerance range. In addition, innovative dampening, which is directly integrated in the drive rod, allows short cycle times and a much longer admissible finger length.
The multifunctional PRG has an adjustable stroke to fit the individual application and is also available with a gripping force safety device, in a high-temperature version and with three different opening angles (30° / 60° / 90°). The end position can be optionally monitored by inductive proximity switches or magnetic switches.


Media Contact
Veronika Gaertner
Marketing Coordinator
Technical Contact
Jesse Hayes
Automation Product Manager