Schmalz Vacuum Spider SSP ensures a quick and cost-effective configuration
Large-area vacuum gripping systems are used in many different industries for many material-flow applications today.
In order to configure the gripping systems in a quicker, more efficient and more cost-effective way, Schmalz developed a special modular component system - the
Vacuum Spider SSP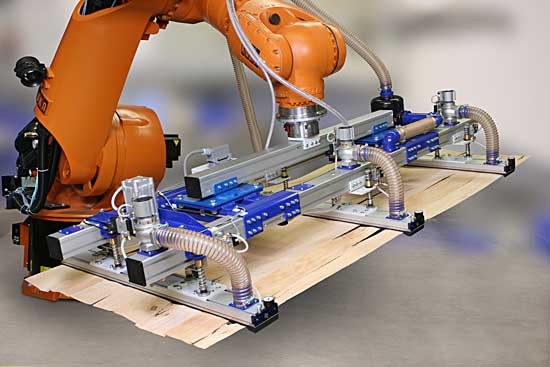 Standardized vacuum components now enable the quick realization of individual gripper solutions. These ensure maximum efficiency and guarantee high flexibility when carrying out automated handling processes such as commissioning, re-stacking, (de-)palletizing and other tasks of this type.
Main Highlights:
§ Modular component gripping system consisting of individual coordinated components
à Quick and cost-effective assembly for minimal cycle times and high process safety
§ Intelligent valve technology for unused suction cells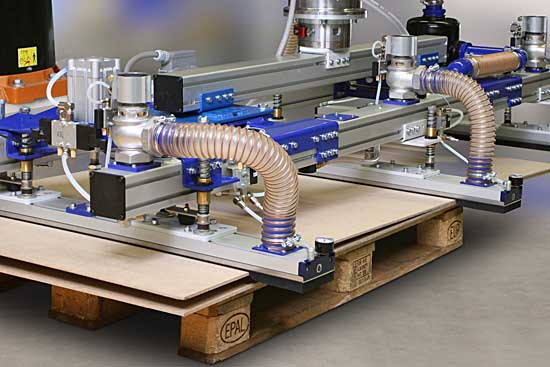 à Secure gripping of work pieces with variable dimensions and/or undefined position
§ Innovative separation function
à Reliable separation of work pieces stuck together due to adhesion or porosity
§ Standardized, robust complete grippers
à Reliable, cost-effective and easily installable solution
§ Robust complete system
à The modular system offers solutions that are reliable, cost-effective and easy to install.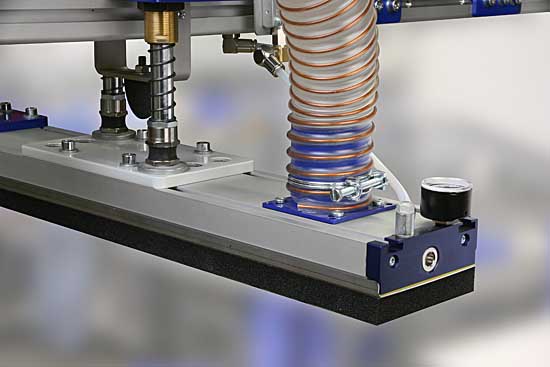 § Separation function
à The separation function enables e.g. the reliable and easy separation of porous particle boards.
Use:
§ Handling of work pieces with a wide range of dimensions and/or undefined position
§ Handling of work pieces with gaps
§ Automated palletizing/(de)palletizing of sheet material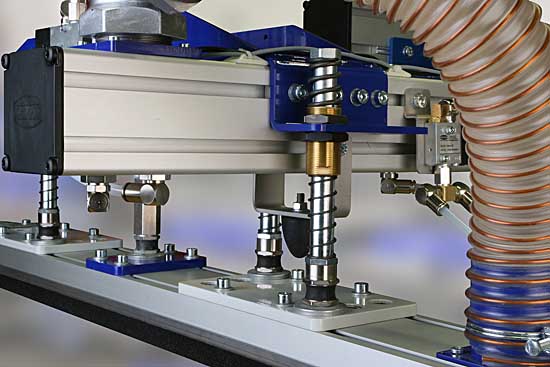 s
(wood, metal, plastic), washers, blanks, glass, solar panels, large cardboard boxes
Structure:
§ Modular component system consisting of coordinated components and assemblies for defined sized and working load ranges
§ Depending on the handling task, other gripping principles can be used as gripping elements in addition to large-area grippers (e.g. individual suction pads, mechanical grippers, magnetic grippers or needle grippers).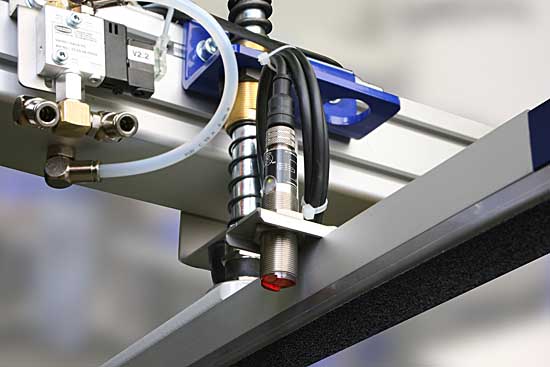 § Modular structure
o Basic version consisting of a variably movable flange module, longitudinal cross arm, vacuum distributor, flexible, spring-mounted suction elements as well as an optional vacuum generator
o The comfort version is additionally equipped with a separation unit, valve unit, sensor unit and electrical terminal boxes

Schmalz is the leading supplier of Vacuum Automation Components as well as Robotic and Gantry style Vacuum Gripping Systems. Schmalz supplies modularly constructed area and layer vacuum grippers for flexible handling of varying material properties, configurations and shapes - such as non-rigid cardboard boxes, plastic film and porous materials. Schmalz grippers can handle varying dimensions and undefined positions. The product range of Vacuum Components includes suction cups in (11) standard materials and cup lines for special industry needs, e.g. Automotive cups or cups for the Packaging industry. The product range also includes vacuum generators, mounting elements and system monitoring devices. Schmalz, founded in 1910 in Germany, is family owned and operated in third generation. Schmalz is one of the few positive-energy companies worldwide and has been rewarded for its sustainability several times. Schmalz is ISO 9001 and ISO 14001 certified for more than 10 years.

Schmalz Inc., founded in 1999, is the US-subsidiary of Schmalz. Located in Raleigh, NC, Schmalz Inc. has its own outside sales force and Authorized Schmalz Distributors in all states. Schmalz Inc. is committed to provide an outstanding and timely service nationwide.
Schmalz Inc.
5200 Atlantic Avenue
Raleigh, NC 27616
(919) 713-0880
www.schmalz.com