Schmalz Vacuum Gripping Systems for palletizing and depalletizing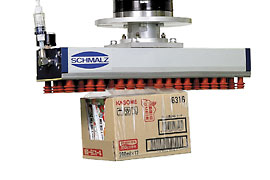 Vacuum specialist Schmalz has a first class efficiency tool for users in the packaging industry: the large-area vacuum gripper FXC/FMC-SG. Highly customized, application-specific large-area vacuum gripping systems can be created thanks the modular design with standardised components: main body, valve and replaceable suction pads.
The user has two choices for the main body: FXC (with integrated vacuum generation) or FMC (with a connection for external vacuum generation). In both versions, the main body consists of extruded aluminium sections that are variable in both width and length with a vacuum display embedded in the end covers and connections for the functions "sensor" and "blow off."
For the valve module, the user can choose between SVWK or SW: SVWK has valve bodies that close automatically when not in use and is predominantly used with extremely porous workpieces. SW with flow resistors, on the other hand, is better suited for suction-tight workpieces.
The user also has a choice of suction pads: Whether you need optimised shapes for high suction power, additional foam sealing rings for workpieces with rough surfaces or embedded flow resistance – all standard suction pads have soft and supple sealing lips that quickly fit to uneven packaged goods or packaging, ensuring high holding power and precise positioning of the workpiece. In addition, the excellent sealing performance of the suction pads reduces the amount of energy required for vacuum generation. In the end, whether you choose quick-change, plug-in suction grippers with no screw fittings, or if you decide on suction pads that attach via screws, you can be sure that installing and replacing the suction pads is a quick procedure that will have the machine operating again in no time at all.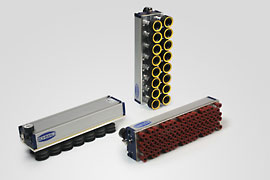 The Schmalz vacuum gripping systems FXC/FMC-SG are universally suitable for handling stable and unstable packages, cardboard boxes, intermediate layers, packages covered in film, outer packaging, trays, and other such items. The gripping systems can operate with full or partial coverage, meaning everything from individual cardboard boxes to several packages or containers at a time can be gripped and transported. Multiple FXC/FMC-SG large-area vacuum grippers can be put together to create a large format vacuum gripping system, allowing the system to be matched perfectly to the goods to be handled in relation to the size and weight of the packaged goods or the surface, stability, and consistency of the packaging.
Schmalz is the leading supplier of Vacuum Automation Components as well as Robotic and Gantry style Vacuum Gripping Systems. Schmalz supplies modularly constructed area and layer vacuum grippers for flexible handling of varying material properties, configurations and shapes - such as non-rigid cardboard boxes, plastic film and porous materials. Schmalz grippers can handle varying dimensions and undefined positions. The product range of Vacuum Components includes suction cups in (11) standard materials and cup lines for special industry needs, e.g. Automotive cups or cups for the Packaging industry. The product range also includes vacuum generators, mounting elements and system monitoring devices. Schmalz, founded in 1910 in Germany, is family owned and operated in third generation. Schmalz is one of the few positive-energy companies worldwide and has been rewarded for its sustainability several times. Schmalz is ISO 9001 and ISO 14001 certified for more than 10 years.
Schmalz Inc., founded in 1999, is the US-subsidiary of Schmalz. Located in Raleigh, NC, Schmalz Inc. has its own outside sales force and Authorized Schmalz Distributors in all states. Schmalz Inc. is committed to provide an outstanding and timely service nationwide.
Schmalz Inc.
5200 Atlantic Avenue
Raleigh, NC 27616
Phone: (919) 713-0880
www.schmalz.com