Schmalz Needle Grippers Lift Things Which Vacuums Cannot Grip
The new special grippers are the perfect supplement to the existing Schmalz range.

Needle grippers are special grippers which are actuated by compressed air. The needles are driven into the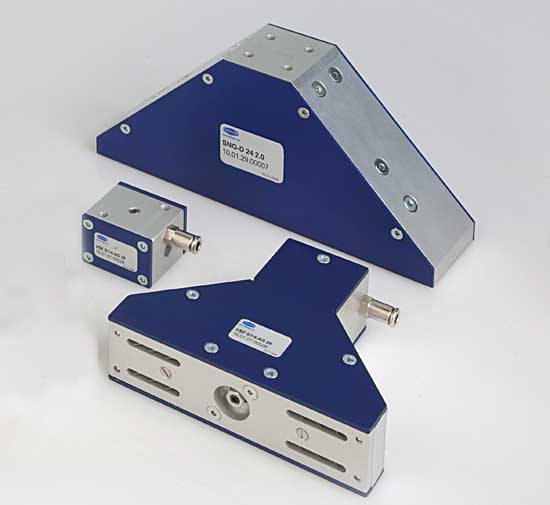 product to be gripped and are withdrawn either by springs or by compressed air. The needles are angled in two different directions in order to ensure secure gripping of the workpiece.
Advantages of needle grippers:
§ Safe handling of flexible materials
§ Various versions for differing operating conditions
§ Various needle diameters and adjustable needle stroke
Typical applications:
Handling of porous and/or flexible materials such as textiles, insulating mats, foams, fibre-compounds such a fleece or felt, carpets, filters, woven materials (e.g. carbon fibres), polystyrene and metal foams.
Available versions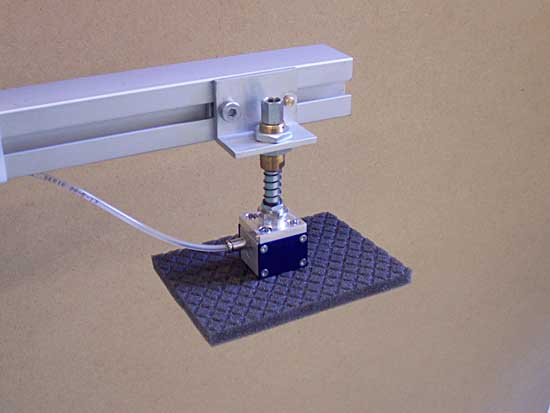 Needle gripper SNG-M
The smallest member of the product range is characterized by its small size and is thus suitable for installation in restricted spaces. The needles are extended by a pulse of compressed air and retracted by springs. The standard version of the needle gripper SNG-M has four needles with a diameter of 0.8 mm, which penetrate the workpiece at an angle of 30°.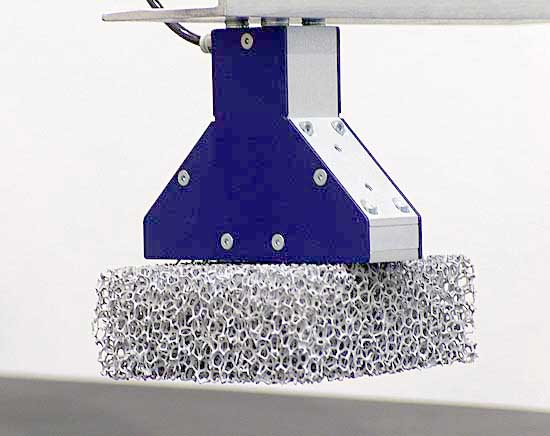 Needle gripper SNG-Y
On the needle gripper SNG-Y needles of various diameters can be selected and the needle stroke can be adjusted. This permits the gripper to be configured individually to match its intended use. The needles are extended by a single-acting pneumatic cylinder and retracted by springs. The SNG-Y has 12 needles (with a diameter of 0,8, 1.2 or 2.0 mm) and a penetration angle of 45°.
Needle gripper SNG-D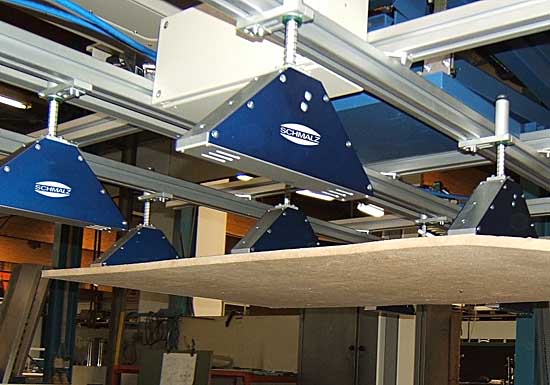 This version, just like the SNG-Y can be equipped with needles with a diameter of ß.8, 1.2 or 2.0 mm, which means that it can be adapted to match workpieces of varying sizes and shapes. The needles are reliably extended and retracted by a double-acting pneumatic cylinder. The needle gripper SNG-D has 24 needles and a penetration angle of 45°.
Schmalz is the leading supplier of Vacuum Automation Components as well as Robotic and Gantry style Vacuum Gripping Systems. Schmalz supplies modularly constructed area and layer vacuum grippers for flexible handling of varying material properties, configurations and shapes - such as non-rigid cardboard boxes, plastic film and porous materials. Schmalz grippers can handle varying dimensions and undefined positions. The product range of Vacuum Components includes suction cups in (11) standard materials and cup lines for special industry needs, e.g. Automotive cups or cups for the Packaging industry. The product range also includes vacuum generators, mounting elements and system monitoring devices. Schmalz, founded in 1910 in Germany, is family owned and operated in third generation. Schmalz is one of the few positive-energy companies worldwide and has been rewarded for its sustainability several times. Schmalz is ISO 9001 and ISO 14001 certified for more than 10 years.

Schmalz Inc., founded in 1999, is the US-subsidiary of Schmalz. Located in Raleigh, NC, Schmalz Inc. has its own outside sales force and Authorized Schmalz Distributors in all states. Schmalz Inc. is committed to provide an outstanding and timely service nationwide.
Schmalz Inc.
5200 Atlantic Avenue
Raleigh, NC 27616
(919) 713-0880
www.schmalz.com