Schmalz Compact Ejector allows for the shortest handling cycles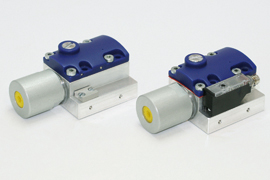 Compact, light and strong with an extra blow-off feature: the new SEAC-RP compact ejector from vacuum technology specialist Schmalz provides both decentralised vacuum generation and added functional value, using as little space as possible.
The SEAC-RP vacuum generator is the latest in a series of innovative Schmalz products, and it meets energy efficiency and resource optimisation requirements. That's because the SEAC-RP compact ejector, which is powered by compressed air, has integrated pneumatic air-saving regulation that guarantees minimal, demand-driven consumption of compressed air and thereby helps reduce energy and operation costs.
Indeed, the compact ejector is very compact and light-weight. As such, it is ideally suited for integration in vacuum systems and does not adversely affect the dynamics, or the process or movement speed of the handling system or robot. The combination of a high-speed and large suction capacity and an integrated blow-off system guarantees that the shortest handling and cycle times. With a modular design, the SEAC-RP compact ejector, system monitor and suction pad constitute a unit to be installed separately on a decentralised vacuum generator. Installation is uncomplicated and mounting work is minimal.
In addition to integrated pneumatic air-saving regulation and the extra blow-off system, the compact ejector has an integrated silencer that helps reduce noise levels and improve working conditions for employees. There is also the option of attaching an electric vacuum switch for system monitoring, with an adjustable switching point.
The SEAC-RP compact ejector has an anodised aluminium main body and a sturdy design for automatic operation. It is particularly well suited for use in rapid and highly dynamic handling or robot systems, for example during the treatment of sheet metal, wood, plastic, CDs or packaging material.
Schmalz is the leading supplier of Vacuum Automation Components as well as Robotic and Gantry style Vacuum Gripping Systems. Schmalz supplies modularly constructed area and layer vacuum grippers for flexible handling of varying material properties, configurations and shapes - such as non-rigid cardboard boxes, plastic film and porous materials. Schmalz grippers can handle varying dimensions and undefined positions. The product range of Vacuum Components includes suction cups in (11) standard materials and cup lines for special industry needs, e.g. Automotive cups or cups for the Packaging industry. The product range also includes vacuum generators, mounting elements and system monitoring devices. Schmalz, founded in 1910 in Germany, is family owned and operated in third generation. Schmalz is one of the few positive-energy companies worldwide and has been rewarded for its sustainability several times. Schmalz is ISO 9001 and ISO 14001 certified for more than 10 years.
Schmalz Inc., founded in 1999, is the US-subsidiary of Schmalz. Located in Raleigh, NC, Schmalz Inc. has its own outside sales force and Authorized Schmalz Distributors in all states. Schmalz Inc. is committed to provide an outstanding and timely service nationwide.
Contact:
Schmalz Inc.
5200 Atlantic Avenue
Raleigh, NC 27616
Phone: (919) 713-0880
Web: www.schmalz.com