Safety Consulting: Schmersal with New Portfolio of Services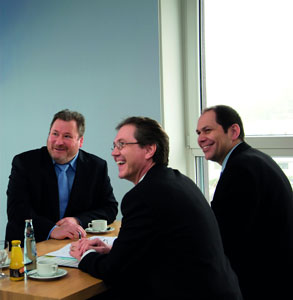 The Schmersal Group broadens its service offer with respect to machinery safety. The new "Safety Consulting" service aims at providing the company´s customers with comprehensive consultancy regarding issues such as the implementation of directives and standards in actual constructional practice.
In recent months, experienced engineers from German plants as well as from multiple European subsidiaries have been qualified as machinery safety experts. They are already on duty in the new Application Center, where they closely collaborate with the local sales engineers and the product management. In other nations, e.g. China and the U.S.A., the consultants will be qualified in September 2010.
The key task of the Safety Consultants will consist in providing the customers with qualified answers to their questions, e.g. which type of safety system must be used, how the safety system must be integrated in the control system and the functionalities of the machine and how the programmable electronic safety system can be configured to optimally meet both the safety requirements and the productivity specifications of the machine.
The assessment of the required Performance Level to EN ISO 13849-1 and the calculation of the actual Performance Level for the selected safety system are two other tasks that the Safety Consultants accomplish for the customers.
The first reactions of the customers onto the new service offer are throughout positive. Uwe Wiemer, Application Center Manager: "Many of our customers want to delegate the configuration of regulation-compliant safety systems to experts, who accept the full responsibility for this assignment. As one of the world market leaders in the safety switchgear business, we have acquired a comprehensive and highly practice-related knowhow in this field. As a result of our collaboration and affiliation to different standardisation bodies, we also have the necessary theoretical 'background,' which is required for configuring standard-compliant safety guards."
Other services will be added to the Safety Consulting, which will be offered worldwide by the Schmersal Group. The objective is to come to a manufacturer- and technology-neutral way of thinking and to develop or to configure complex safety-technical solutions beyond the own product spectrum.
Simultaneously, the usual services rendered by Schmersal will be integrated in the Application Center as well. Uwe Wiemer: "We have always undertaken additional tasks such as the parameter setting of safety controllers or making customer-specific modifications to our safety switchgear. That's our reputation on the market. These tasks are now transferred to our Application Center. As a result of the centralization of our service offer, we can work in a more concentrated manner, thus creating the necessary freedom for development, product management and sales to raise the tone of our 'one-stop shop for safety' claim on the market."
K.A. Schmersal GmbH
Industrielle Sicherheitsschaltsysteme
Möddinghofe 30
D-42279 Wuppertal
KLÖPPING Heike
Phone: +49 202 64 74 861
Fax: +49-(0) 202-6474-100