ROSS CONTROLS® Introduces the Modular L-O-X® Valve Air Entry Combination
(TROY, MI) – ROSS CONTROLS is proud to announce the introduction of its latest product, the Modular L-O-X® valve Air Entry combination. Combining three elemental products into one (filter, regulator and industry-leading lockout valve), this pre-engineered modular design consolidates multiple functions into a single space-saving and easy-to-service assembly.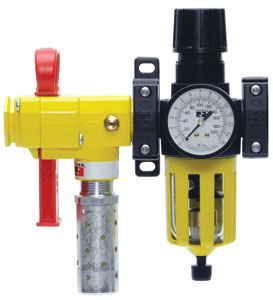 Created with packaging, conveyor panels, and material handling applications in mind, the ROSS Modular L-O-X valve complies with ANSI/PMMI B.155.1 – 2006 and ANSI B11.GSR standards with its full size exhaust port and a verification port for visible pressure release indication (pop up or pressure switches are optional). Conforming to OSHA lockout requirements, the L-O-X is easy to operate and is lockable only in the off position. The Modular L-O-X® is also suitable for air entry applications.
Beyond this new L-O-X/filter/regulator assembly, ROSS is also offering air entry packages for Cat- 2, -3, and -4 applications for design flexibility. The Cat-2 design utilizes a sensing valve, while the Cat-3 and -4 designs utilize a DM1 Series E double valve and DM2® Series E double valve (respectively) for control reliability.
Multiple functions in a flexible, space-saving modular design – another way ROSS helps you achieve a safer and more efficient workflow. For more information on the ROSS Modular L-O-X valve Air Entry combination, visit our Web site at www.rosscontrols.com or contact your local ROSS distributor.
ROSS CONTROLS
Established and headquartered in Michigan since 1921, ROSS CONTROLS® is an international
designer and ISO-certified manufacturer of pneumatic valves and controls systems. An
innovative and driving force in the pneumatic safety industry for over 50 years, ROSS focuses on
tailored technology to provide customers with a distinct value advantage. ROSS has subsidiaries
in Germany, Japan, the United Kingdom, India, Brazil, France, and China plus 145 worldwide
stocking distributors.

For more information contact:
Dan Henman – (248) 764-1802
Internet: www.rosscontrols.com