ROSS CONTROLS® Introduces its High-Relief Pilot-Operated Regulator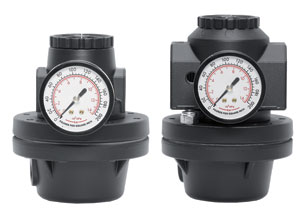 (TROY, MI) – ROSS CONTROLS is proud to announce the introduction of its High-Relief Pilot-Operated Regulator for high-flow applications. This multi-purpose regulator is an asset to systems requiring high relief capability such as welding, blow molding operations, steel, aluminum, and glass production.
In cylinder applications, this regulator excels in maintaining optimal system pressure for consistent operating conditions. For instance, in an application where 100 psi is sent to the regulator, the regulator can be set to maintain a certain pressure (say 60 psi) regardless of any downstream resistance. Though the cylinder process may create increased backpressure downstream, the regulator senses the disparity and adjusts the pressure accordingly. This consistent pressure helps provides favorable system conditions for high quality production. Additionally, this high-relief regulator also offers enhanced ease-of-use because it can be installed in a difficult-to-reach location while its control regulator is mounted in a more easily accessible location.
Available in ¼" through 1 ¼" port sizes, the regulator is inline mounted and utilizes a diaphragm design. It handles a maximum inlet pressure of 400 psig, outlet pressure of up to 250 psig and has flow rates exceeding 400 scfm. With the convenience of its full-size relief port, the regulator offers high pressure relief of up to 200 scfm. For flexibility, the regulator is available with an optional pressure gauge and can also be ordered in a non-relieving configuration.
For more information on how the ROSS High-Relief Pilot-Operated Regulator can help you maintain consistent system pressure in your production operation, contact:
ROSS CONTROLS Customer Service
800-438-7677 (in the U.S.) or 706-356-3708 (outside the U.S.)
Internet: www.rosscontrols.com
ROSS CONTROLS
Established and headquartered in Michigan since 1921, ROSS CONTROLS® is an international designer and ISO-certified manufacturer of pneumatic valves and controls systems. An innovative and driving force in the pneumatic safety industry for over 50 years, ROSS focuses on tailored technology to provide customers with a distinct value advantage. ROSS has subsidiaries in Germany, Japan, the United Kingdom, India, Brazil, France, and China plus 145 worldwide stocking distributors.
For more information contact:
Doug Racine – (248) 764-1811