ROSS CONTROLS® Introduces a Size 2 Cat-4 Double Valve for Press Clutch/Brake Applications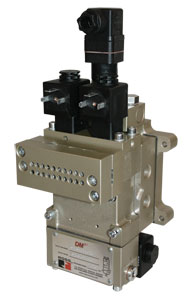 (TROY, MI) - ROSS CONTROLS is pleased to announce the introduction of the new compact size 2 DM2® Series D valve, the latest addition to ROSS' press application double valve family. This 100% dynamically-monitored valve has complete memory, is control-reliable and Category- 4 rated for press clutch/brake applications. Now, customers can reap the superior safety benefits of ROSS' DM2® Series D products in a new, smaller design.
For exceptional convenience and value, the DM2® Series D products integrate memory, monitoring and air flow functions into two identical valve elements. In the event of asynchronous valve element movement during actuation or de-actuation, the DM2® Series D valves will lock out, resulting in less than 1% residual outlet pressure, inhibiting further operation of the press. For enhanced safety, DM2® Series D valves were designed so that removing and reapplying air pressure cannot reset the valve. A variety of fault reset options are provided (remote air signal, optional integrated electrical/solenoid, or manual), all of which require overt action per ANSI, EN and many other global regulations.
As with the rest of the DM2® Series D family, the size 2 valve offers ROSS' patented dirt-tolerant, wear-compensating poppet design which provides quick response and high flow capacity. To ensure long service life and sure shifting capability in potentially harsh environments, the valve has TEFLON-coated back-up rings on its pistons (non-lube service standard, inline lubrication acceptable).
The DM2® Series D size 2 valve is base-mounted and available with BSPP or NPT pipe threads. For greater flexibility in piping, the valve was designed with inlet and outlet ports on both sides (plugs included for unused ports). The size 2 valve offers a 3/2 normally-closed valve function and is available in 1/4 or 3/8" port sizes.
The ROSS DM2® Series D size 2 double valve is suitable for the following applications:
• Small gap frame presses
• Small die cut presses
• Cylinder presses
• Small shears
• Any small control-reliable pneumatic application
For more information contact:
Bill Tremblay – (248) 764-1809

All of the DM2® Series D standard valves include a high-flow, clog resistant silencer for noise abatement. An optional status indicator pressure switch is also available, which can be initially installed or added in the field. The pressure switch has both normally-open and normally-closed contacts and provides status feedback (lock-out or ready-to-run condition) to the press control system.
For more information about the ROSS DM2® Series D size 2 valves or a free brochure, contact:
ROSS CONTROLS Customer Service
800-438-7677 (in the U.S.) or 706-356-3708 (outside the U.S.)
Internet: www.rosscontrols.com
ROSS CONTROLS
Established and headquartered in Michigan since 1921, ROSS CONTROLS® is an international designer and ISO-certified manufacturer of pneumatic valves and controls systems. An innovative and driving force in the pneumatic safety industry for over 50 years, ROSS focuses on tailored technology to provide customers with a distinct value advantage. ROSS has subsidiaries in Germany, Japan, the United Kingdom, India, Brazil, France, and China plus 145 worldwide stocking distributors.