ROSS CONTROLS® Expands its Pneumatic Control Reliable Valve Lines
(TROY, MI, USA) – The new DM2®E Series expands ROSS CONTROLS® family of double valves with dynamic monitoring and memory for Category 4 machine safeguarding applications. These new DM2E valves are available in nominal size 2 with port sizes 1/4 and 3/8, NPT and BSPP threads, providing a broad range of flow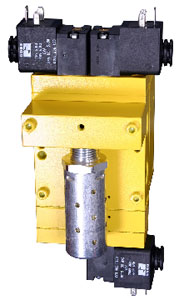 capabilities to meet customer needs. These smaller products complement the existing line of dynamically monitored double valves, DM2C sizes 4, 8, 12, & 30. Both of DM2E and DM2C Series are designed for air dump/release applications requiring control reliability.
ROSS' new DM2E pneumatic safety-related valves address international standards for machine safeguarding. Memory, monitoring, and air-flow control functions are integrated into two identical valve elements inside one body. DM2E valves lockout and exhaust downstream air when asynchronous movement of valve elements is sensed during actuation or de-actuation, resulting in a residual outlet pressure of less than 1% of supply. An intentional action is required for reset the valve, which can only be accomplished by energizing the integrated electrical (solenoid) reset. Inlet and outlet ports on both sides of the valve provide flexibility for piping and all models include a high flow silencer.
An optional Status Indicator is available to provide status feedback to the equipment's control system of the valve's lock-out or ready-to-run condition and includes a pressure switch with both normally open and normally closed contacts.
ROSS CONTROLS®
Established in 1921, ROSS CONTROLS is an international manufacturer of pneumatic valves, control systems and safety-related products for the fluid power industry. With ISO 9000 facilities and sales offices in the United States, Germany, the United Kingdom and Japan, and dedicated sales offices in Brazil, France, India and China, ROSS focuses on tailored technology to provide customers with a distinct value advantage.