ROSS CONTROLS® Announces Rugged 3/2 Valve Block Cartridge Valve
(TROY, MI) - ROSS CONTROLS proudly announces the release of its updated 3/2 Cartridge Valve for I/S glass machines, 21 or 26 valve blocks. This rugged and recently redesigned valve now provides longer service life and enhanced uptime in harsh and dirty glass production environments.
ROSS' 3/2 Valve Block Cartridge valve is constructed with high quality, aircraft grade aluminum outer housings, high-temperature VITON® seals, and high-temperature stainless steel poppets. These robust materials prevent downtime by protecting against internal deterioration due to contaminated air and extreme conditions.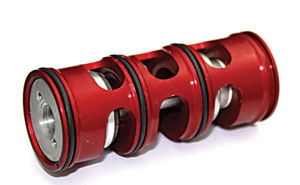 The newly redesigned valve offers many upgrades such as improved through flow, poppet internals, moving part guidance and longer projected product life. For improved ease-of-use, the new 3/2 Valve Block Cartridge valve no longer requires orientation during installation. Its three-leg design offers a stronger build which helps improve productivity. The valve also conveniently integrates the pressure booster function with its two-piston design.
The valve is available in a 14 mm normally-closed (red housing) or normally-open (blue housing) spring return construction. For further information on ROSS' 3/2 Valve Block Cartridge valve, please contact your local ROSS distributor, ROSS Global Industry Glass Specialist, or visit ROSS' Glass Container Industry page for more information.
ROSS CONTROLS
Established and headquartered in Michigan since 1921, ROSS CONTROLS is an international designer and ISO-certified manufacturer of pneumatic valves and controls systems. An innovative and driving force in the pneumatic safety industry for over 50 years, ROSS focuses on tailored technology to provide customers with a distinct value advantage. ROSS has subsidiaries in Germany, Japan, the United Kingdom, India, Brazil, France, and China plus 145 worldwide stocking distributors.