ROSS CONTROLS® Announces New Safety Valve Selection Tool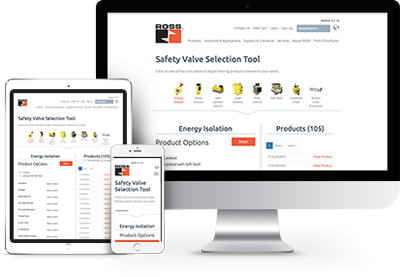 TROY, MI – ROSS Controls® the Global Leader in Pneumatic Safety Valves, introduces its new Safety Valve Selection Tool. The Safety Valve Selection Tool will simplify your process of selecting the best product to fit your application, independent of your familiarity with Safety Valves and ROSS Controls.
Nine different safety application categories are included with approximately 2,000 total product possibilities. Categories include Energy Isolation, Safety Exhaust, Safe Cylinder Return, Load Holding, Press Control, Soft Start, Hazardous Locations, and Broken Hose Protection. To help your navigation, additional product feature explanations are available throughout the process.
This new tool is available at ROSS' website and can be used from a PC, tablet, and smart phone. After a final selection is made, you can click on a link to that product's website catalog page to download additional information including data sheet, technical documentation, and 3D models.
For more information on the ROSS® Safety Valve Selection Tool contact ROSS Control or visit ROSS' website.
About ROSS CONTROLS®
Established in 1921, ROSS CONTROLS® is headquartered in Troy, Michigan and is ISO certified. ROSS® designs and manufactures pneumatic valves, control systems, and is universally recognized as a global leader in fluid power safety solutions and poppet valve technology. ROSS® provides standard products and customized ROSS/FLEX® solutions for machinery and automation. Selling to original equipment manufacturers and end-users throughout the world, ROSS® reaches its global customer base through the global sales team located in the United States, Germany, France, England, Japan, China, Brazil, India, and Canada. In addition to its global sales team, ROSS® markets its products through a worldwide network of more than 100 distributors.