RobotWorx Robots Star in NBC 'Knight Rider'
Two reconditioned robots are part of the cast of the new Knight Rider television series.
When NBC Universal Studios needed industrial robots fast, they turned to RobotWorx, a robotics integrator. Within a month's time, RobotWorx provided NBC with two used Fanuc ArcMate 100i RJ2 robots, free training, and support.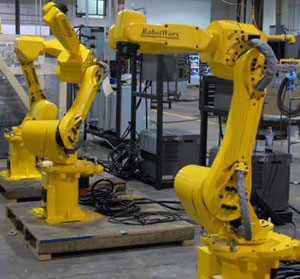 RobotWorx' two industrial robots, named Katie and Lisa by NBC, take center stage as ultra-modern assistants in KITT's cave. In the first Knight Rider episode, which premiered Wednesday, September 24th, the robots were used to scan the updated KITT, a Ford Mustang, for damages.
The Knight Rider robots were carefully readied for their debut. RobotWorx' technicians thoroughly reworked, tested, cleaned, and painted the two ArcMate 100is, making sure they were fit for the cameras. Extra cabling was purchased so the RJ2 controller could be set further from the robots, eliminating fan noises on set. Finally, NBC took advantage of RobotWorx' free training offer and sent a set technician to learn robot programming.
The remake of the 1980s television series airs Wednesdays (8-9 p.m. ET) on NBC. Watch full episodes and learn more online at http://www.nbc.com/Knight_Rider/.
RobotWorx buys and sells new and used industrial robots. Based out of Marion, Ohio, the robot integrator offers customized workcell solutions for companies throughout the world. Visit www.robots.com or call 740-383-8383 for more information.
Contact:
RobotWorx
370 W. Fairground St. Marion, Ohio 43302
ph: 740-383-8383
fax: 740-383-3939